I.C.T SMT 3D High Quality Off-line AOI Machine
❙ Introduction of Off-line SMT AOI
I.C.T high quality SMT AOI, Off-line SMT AOI Machine, PCBA automatic optical inspection equipment, efficient and fast, accurate data, reasonable price, and provide professional solutions
1. For SMT pre-reflow, post-reflow inline inspection
2. Granite platform, greatly improve machine precision and stability
3. Programmable RGB+W LED lighting source
4. Telecentric lens with constant magnification and low distortion response to high compone
Features:
1.LOG automatic collecting and storage function,NG warning/alarm function, Remote programming&debugging.
2.Inspection ability:insufficient,short,slodering hole,solder covering pin,contamination,misalignment,missing part,skewed,billboard,mounting on side,overturn,wrong part,damaged,float,polarity,pseudo soldering,empty solder,excessive glue etc.
3.Perfect SPC collects NG information off line and generates all kinds of production tables automatically.
4.Mature control center function,clear software interface.
5.Good stability(GR&R<10% @6 Sigma,CPK>1.33(Test deviation accuracy less than ±0.25mm.

❙ Specification of Off-line SMT AOI
Model
I.C.T-V8
I.C.T-V8XL
FOV

15u(38.4*28.8mm)

Camera

5M pixel intelligent digital industrial camera

Lens

Telecentric lens

Light
4 color ring LED light,RGB+W

Inspection Item

Component test, soldering test

Mini Component

03015chip,0.3pitch IC and Special shaped

PCB Size

50*50~430*330mm

50*50~650*510mm

PCB Thickness

0.3 ~ 6.0mm

PCB Warpage

±3.0mm

PCB Weight

Max:10Kg

PCB Height

Top:25-60mm,Bottom:25-80mm adjustable

Platform

Granite

Communication
SMEMA
Weight

500Kg

600Kg

Dimension

880*1170*1350mm(excluding the light)

1080*1470*1370mm(excluding the light)

❙ I.C.T Customer Factory
▽ Russia SMT production line (smart appliances)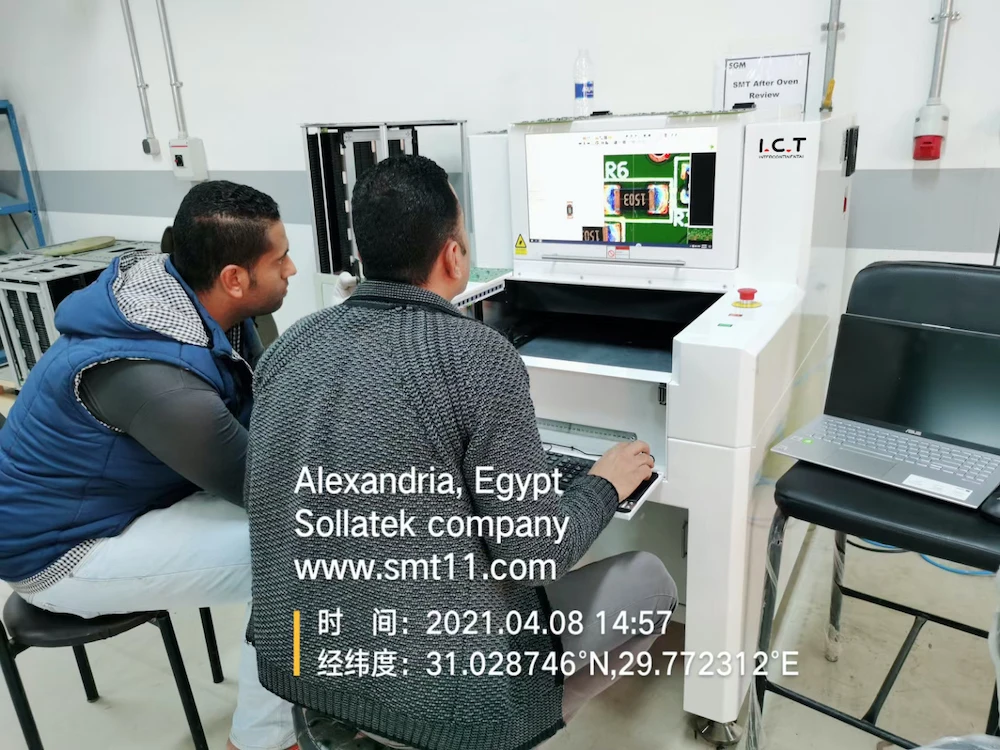 ▽ Algeria LED TV production line
❙ Company Profile

I.C.T is the SMT machine supplier with professional 25-year-experienced sales and after sales team, providing SMT solutions including pick and place machine, reflow oven, SMT stencil printer, SMT line and wave soldering machine.
We also provide the best SMT technical services and accessories support for JUKI, HANWHA/SAMSUNG, YAMAHA, PANASONIC pick and place machine.
Successful Experience:
I.C.T's Customer In 35 Countries Around the World
1. We Have Been Helping Customers To Build a Lot of New Factories Around the World.
2. Training More Than 500 Experts and Technician for Customers.
3. Became the Most Reliable Chinese Partner for You.
For SMT Factory Setup, We Can Do for You:
1. We Provide Full SMT Solution for You
2. We Provide Core Technology With Our Equipments
3. We Provide The Most Professional Tech Service
4. We Have Wealthy Experience on SMT Factory Setup
5. We Can Solve Any Question About SMT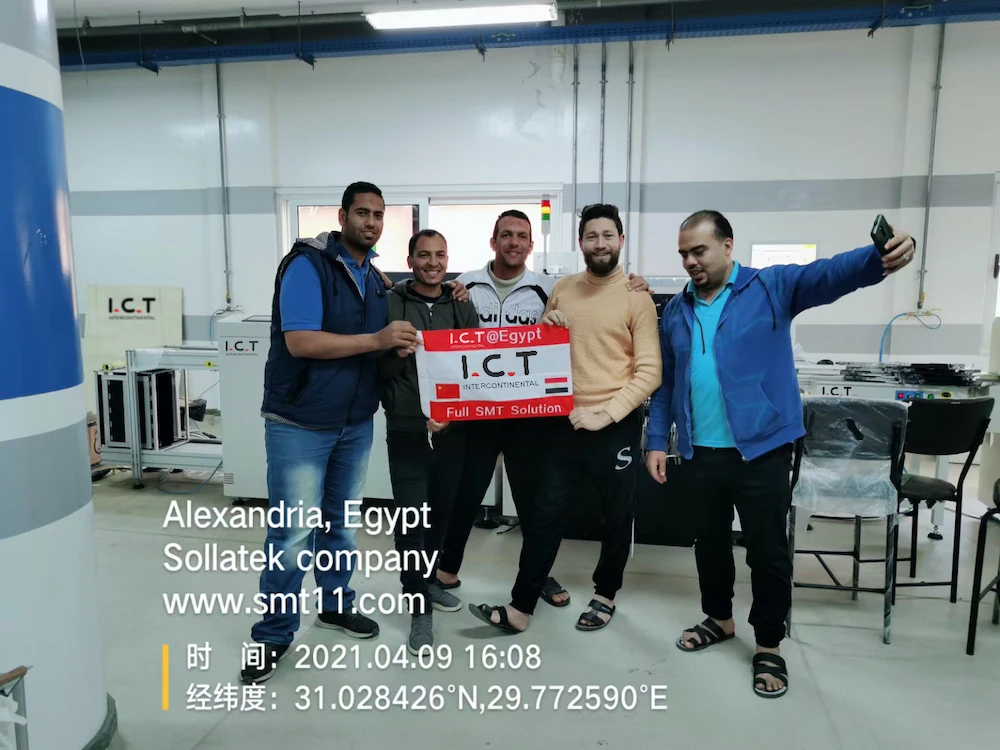 ❙ Off-line SMT AOI Certificate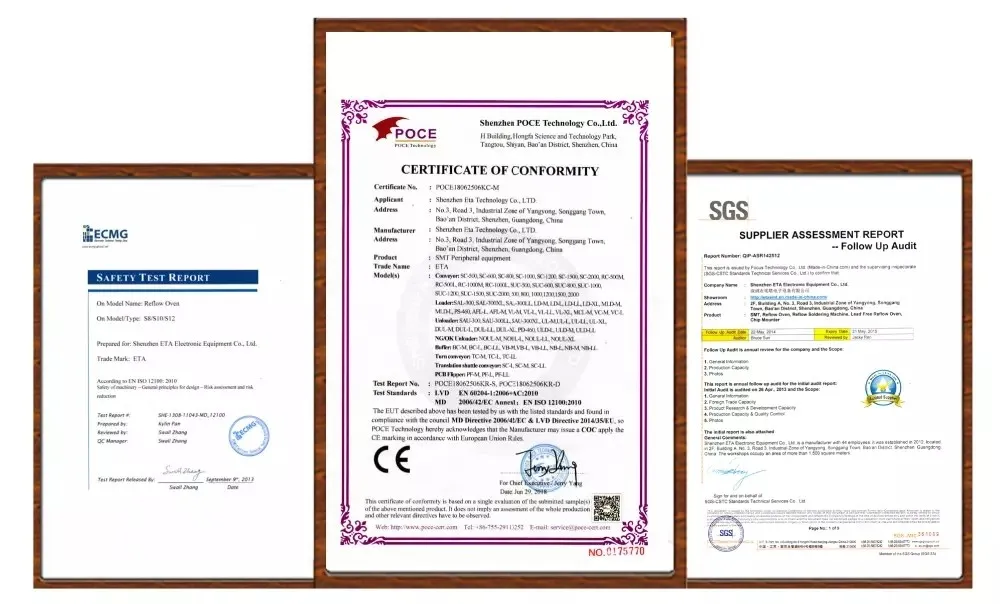 ❙ I.C.T Global Service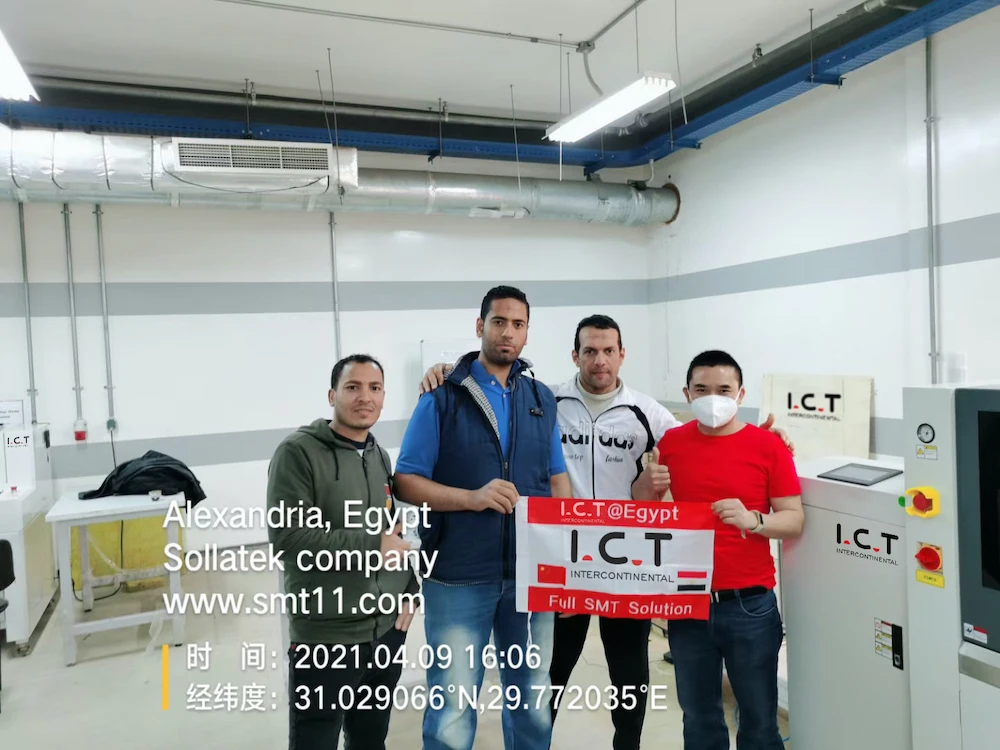 ❙ FAQ
Q: What we can do for you?
A: Total SMT Machines and Solution, professional Technical Support and Service.
Q:Are you a trade company or a manufacturer?
A: OEM & ODM service are available.
Q: What is your delivery date?
A: The delivery date is about 35 days after receipt of payment.
Q: What is your payment terms?
A: 30% deposit in advance and 70% balance before shipment.
Q: What your main customers?
A: Huawei,Foxconn,Vtech,Sumida,Kemet,Vishay,Bosch,Canon.
Q: Why choose us?
A: Leading SMT Supplier in China; Trade assurance to USD 560,000+; Professional after-sales service team.
Keywords:
SMT AOI Machine, Offline AOI Machine, Inline AOI Machine, SMT X Ray Machine, SMT SPI Machine, 3D SPI Machine, 3D AOI Machine, SMT AOI SPI Machine.
I.C.T is a manufacturer of SMT machines. It mainly provides customers with SMT production lines including SMT Stencil Printers, Pick and place machines, Reflow Oven, AOI Machine, Wave Soldering Machine and PCB Handling Machine etc.
I.C.T has more than 25 researches on SMT and DIP technology, for the world Customers provide SMT total solutions. There are successful cases of SMT technical team in Asia, Europe, America, Africa, and Australia.
Welcome more people to discuss with us about SMT technologies and solutions, please contact us for more information: WhatsApp/ Skype / WeChat: +86-13670124230,Email: etasmt@foxmail.com
❙ I.C.T Off-line SMT AOI Video