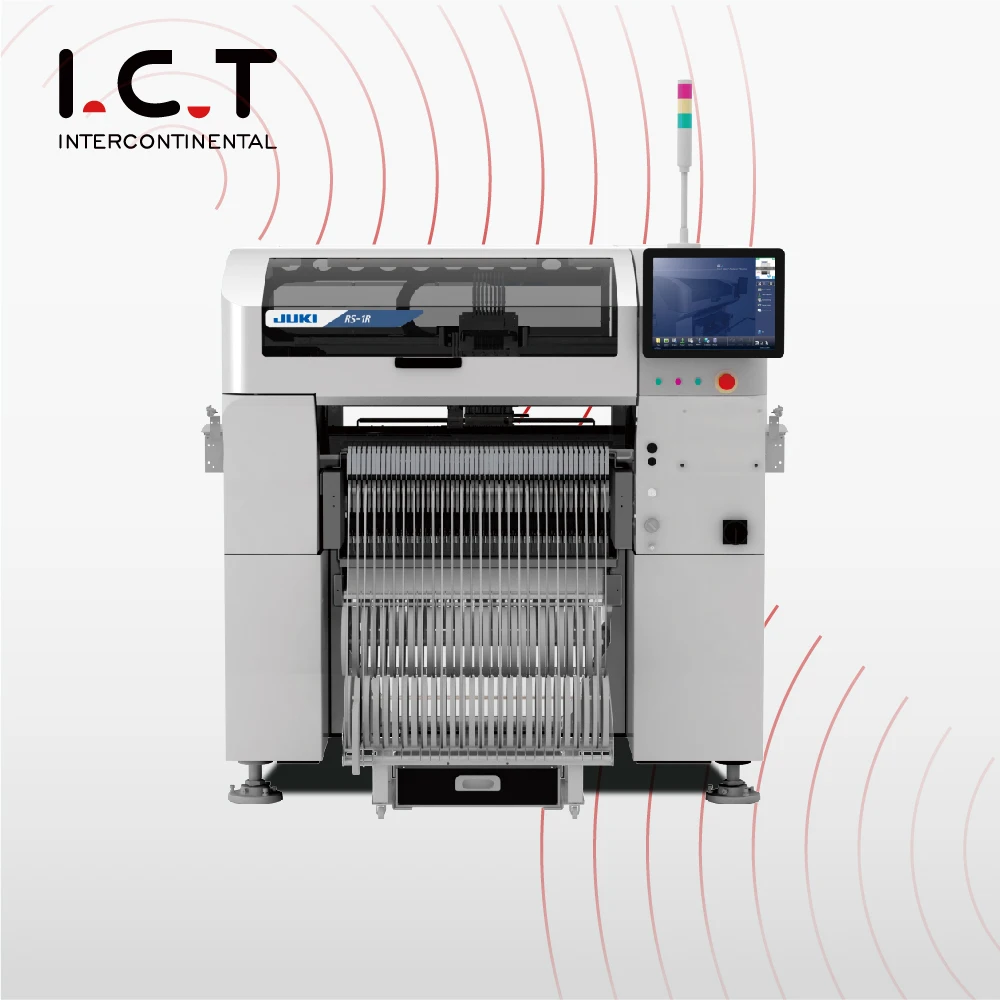 JUKI RS-1R SMT Pick and Place Machine
JUKI RS-1R Fast Smart Modular Pick and Place Machine
❙ Introduce of JUKI RS-1R
JUKI RS-1R is one of the new models of the JUKI Pick and Place Pachine, JUKI RS-1R smart modular mounter SMT Placement, JUKI SMT mounter, JUKI chip shooter, JUKI Chip Mounter speed can reach 47,000 CPH.
❙ Specification of JUKI RS-1R
Model
JUKI RS-1R Pick and Place Machine
Conveyor Specification
standard
150mm conveyor extensions,
upstream and downstream
250mm conveyor extensions,
upstream and downstream
Boar Size
minimum
50*50mm
1 buffer
650*370mm(single clamping)
950*370mm(double clamping)
1,100*370mm(double clamping)
1,200*370mm (double clamping)
3 buffers
360×370mm
500*370mm
600*370mm
Component Height
25mm
Component Size
0201*1 ~74mm /150*50mm
Placement Speed
Optimum
47,000CPH
IPC9850
31,000CPH
Placement Accurancy
±35μm(Cpk≥1)
Feeder Inputs
max.112*2
*1 For metric 0201 compliance please contact us. smtwhf@163.com
*2 Using RF(RF08AS) feeders
Get More Information with Just One Click!
❙
Customers Factory
▽ I.C.T Russia customer - SMT production line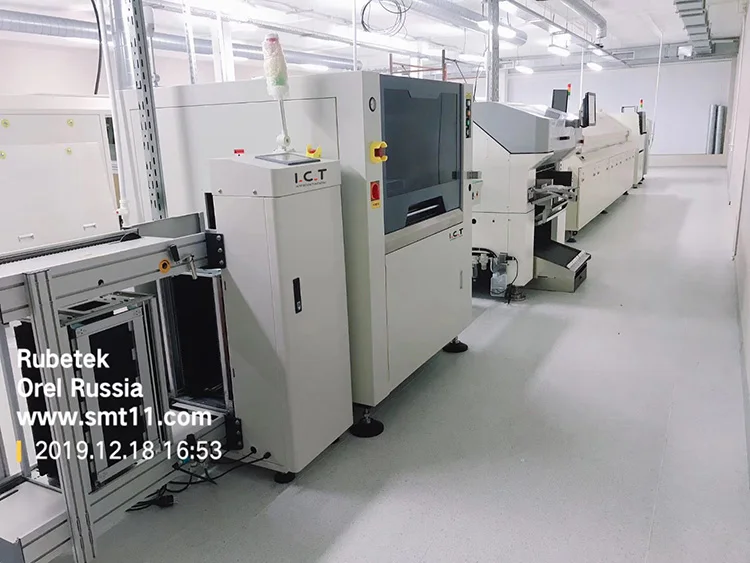 ▽ I.C.T Ecuador customer - LED TV production line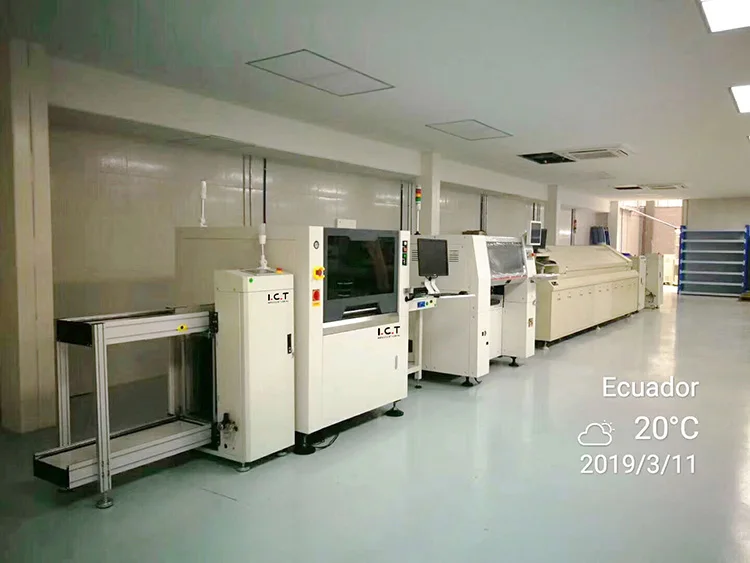 Successful Experience:
I.C.T's Customer In 35 Countries Around the World
1. We Have Been Helping Customers To Build a Lot of New Factories Around the World.
2. Training More Than 500 Experts and Technician for Customers.
3. Became the Most Reliable Chinese Partner for You.
For SMT Factory Setup, We Can Do for You:
1. We Provide Full SMT Solution for You
2. We Provide Core Technology With Our Equipments
3. We Provide The Most Professional Tech Service
4. We Have Wealthy Experience on SMT Factory Setup
5. We Can Solve Any Question About SMT
❙ I.C.T SMT Machine Exhibition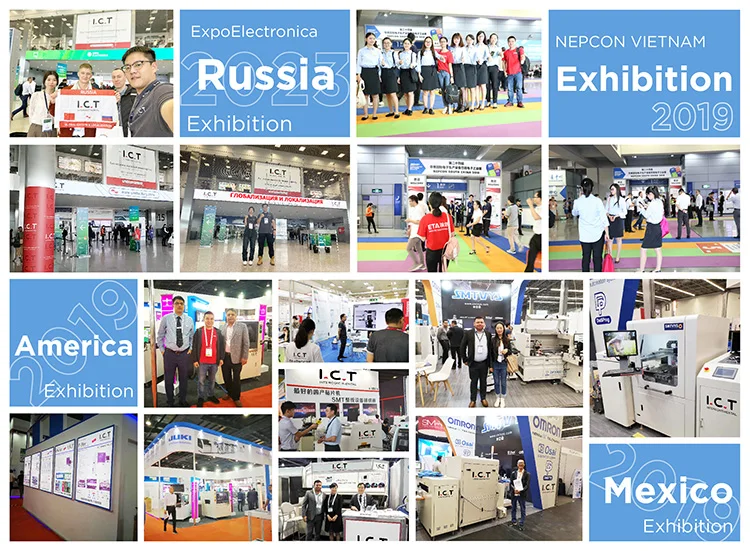 ❙ I.C.T Global Service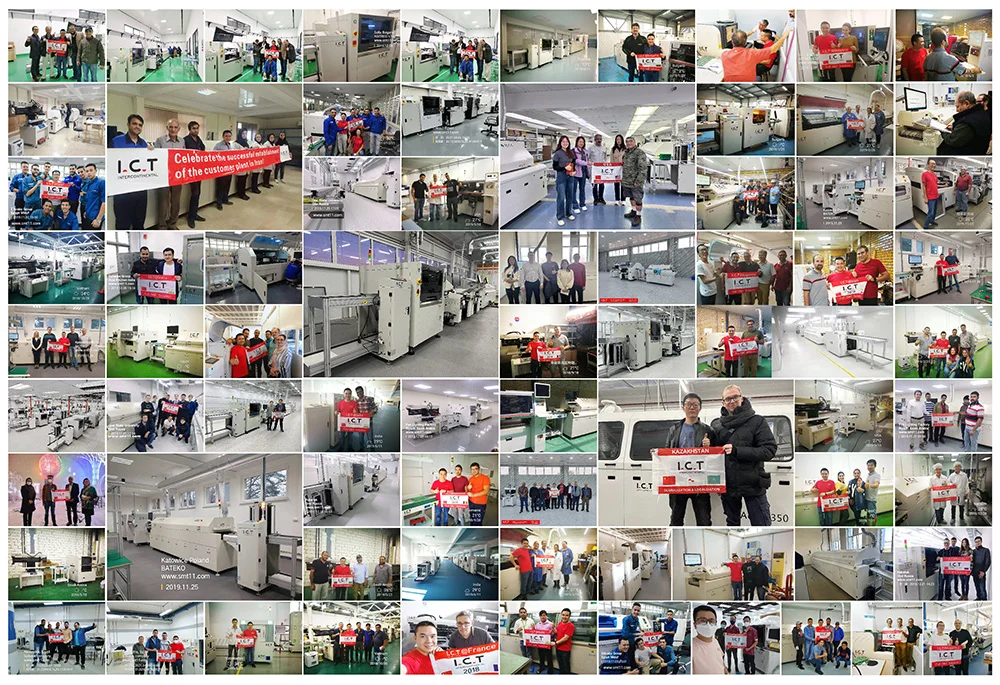 Get More Information with Just One Click!
❙ Keywords
SMT Stencil Printer, SMT Solder Paste Printer, SMT Printing Machine, SMT PCB Printer, 600mm Solder Paste Printer, , Solder Paste Printer, 1200mm Solder Paste Printer, Semi-auto Solder Paste Printer, SMT Automatic Stencil Printer, PCB Printing Machine
I.C.T is a manufacturer of SMT machines. It mainly provides customers with SMT Production Line including SMT Stencil Printers, Pick and place machines, Reflow Oven, AOI Machine, Wave Soldering Machine and PCB Handling Machine etc.
I.C.T has more than 25 researches on SMT and DIP technology, for the world Customers provide SMT total solutions. There are successful cases of SMT technical team in Asia, Europe, America, Africa, and Australia.
I.C.T provide SMT solutions at various stages according to the different needs of customers. I.C.T is not only a provider of SMT equipment and technology, but also is the customer's escort in the field of SMT and DIP.
Welcome more people to discuss with us about SMT technologies and solutions, please Contact Us for more information:

Tel: +86 13670124230 (WhatsApp/Skype/WeChat), Email: info@smt11.com / etasmt@foxmail.com
❙ JUKI Pick and Place Machine Video