Ultrasonic PCBA Cleaning Machine
❙ Introduce of PCBA Cleaning Machine

I.C.T-5600 is an off-line, compact, energy-saving and environmental protection, batch cleaning, high-end PCBA cleaning machine.I.C.T-5600 can automatically complete the cleaning, rinsing, drying process in the clean chamber by just push one start key.
I.C.T-5600 PCBA cleaning machine can effectively clean the residuals on SMT / THT welding PCBA, such as: rosin flux, water-soluble flux , non-clean flux ,solder paste and other organic and inorganic contaminations.
Mainly used in aviation, aerospace, medical, new energy, automotive electronics, meters industries, especially suitable for small amount, multiple types PCBA cleaning.
Features
1.Through clean rosin flux, water-soluble flux, non-clean flux, solder paste and other organic and inorganic contaminations.
2.2-layers cleaning basket: 610mm(L) ×560mm(W) × 100mm(H) x2 layers.
3.State of the process is visible through a large observation window.
4.Clean detergent heat system heat cleaning detergent to a certain temp, raise cleaning efficiency and reduce clean time.
5.Easy operation interface, quick setting clean parameters. Different passwords can be set.
6.Inner filter makes detergent used repeated. Real-time measure DI water resistivity and monitoring cleaning effect. Resistivity range is 0~18 MΩ.
7.The remaining detergent in the pump and pipes are blown off by compressed air and flow back to cleaning tank. This function saves detergent up to 50%.
8.High standard cleanliness, ionic contamination completely meets the requirement of IIPC-610D I class.
9.Totally SUS304 structure, very firm and attractive.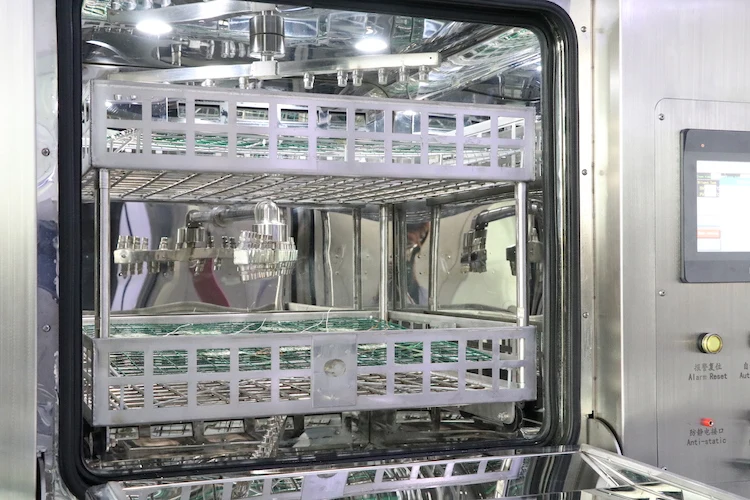 ❙ Specification of PCBA Cleaning Machine
| | |
| --- | --- |
| Item | I.C.T-5600 |
| Cleaning basket size | L610 x W560 x H100 (mm) x2 layers |
| Spray tank capacity | 17L |
| Concentrate capacity | 32L |
| Dilution capacity | 60L |
| Clean time | 5~20min |
| Rinse time | 1~2min/times |
| Rinse times | 1~99times |
| Hot air dry time | 10~30min |
| Detergent heat temp | Room temp~60°C |
| PCB hot air day temp | Room temp~99°C |
| Resistivity range | 0~18MΩ |
| Detergent filter | 0.22um |
| Rinse water pipe out filter | 0.22um |
| Air filter | 10um |
| DI water supply | 30~65L/Min |
| DI water pressure | 0.2~0.4Mpa |
| Vent size | Φ76xH50(mm) |
| Power/Air supply | AC380V/50A/50HZ,30KW,0.5Mpa |
| Machine size | L1300 x W1200 x H1850(mm) |
| Machine weight | 460KG |
❙ I.C.T Customer Factory
▽ Russia SMT production line (smart appliances)

For SMT Factory Setup, We Can Do for You:
1. We Provide Full SMT Solution for You
2. We Provide Core Technology With Our Equipments
3. We Provide The Most Professional Tech Service
4. We Have Wealthy Experience on SMT Factory Setup
5. We Can Solve Any Question About SMT
❙ I.C.T SMT Machine Exhibition
❙ PCB Cleaning Machine Certificate
❙ I.C.T Global Service
❙ Keywords:
SMT Production Line, SMD Production Line, SMT Assembly line, PCB Assembly line, LED Production line, led bulb production line, led display production line, led panel production line, led street lights production line, led strip production line, led tv production line, smartphone smt line, Automatic SMT Assembly line, Semi Automatic SMT Assembly line, electronic production line, JUKI Assembly Line, Samsung Assembly Line, Hanwha Assembly Line, Panasonic Assembly Line, Siemens Assembly Line, FUJI Assembly Line, Yamaha Assembly Line
I.C.T is a manufacturer of SMT machines. It mainly provides customers with SMT production lines including SMT Stencil Printers, Pick and place machines, Reflow Oven, AOI Machine, Wave Soldering Machine and PCB Handling Machine etc.
I.C.T has more than 25 researches on SMT and DIP technology, for the world Customers provide SMT total solutions. There are successful cases of SMT technical team in Asia, Europe, America, Africa, and Australia.
I.C.T provide SMT solutions at various stages according to the different needs of customers. I.C.T is not only a provider of SMT equipment and technology, but also is the customer's escort in the field of SMT and DIP.
Welcome more people to discuss with us about SMT technologies and solutions, please contact us for more information:
Tel: +86 13670124230 (WhatsApp/Skype/WeChat)
Email: info@smt11.com /etasmt@foxmail.com
❙ PCBA Cleaning Machine