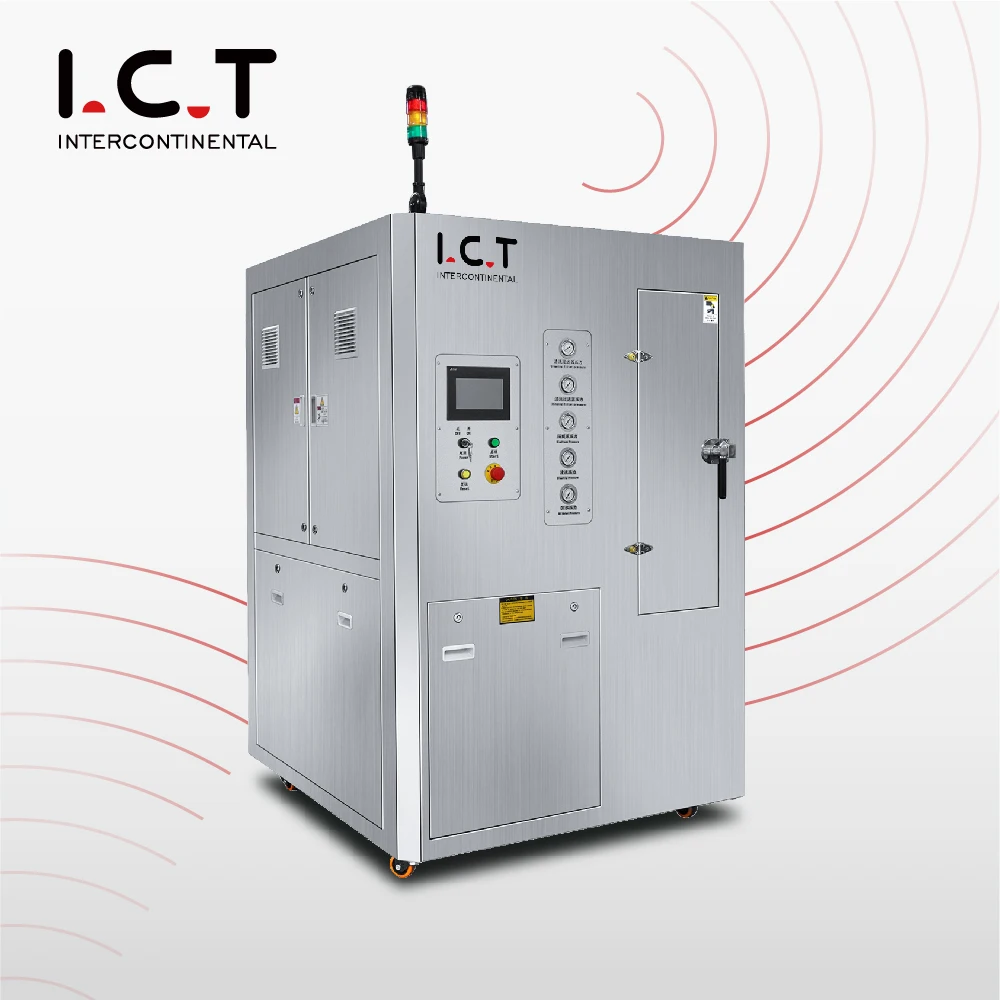 Saving liquid cleaner PCB in ultrasonic cleaner
Saving liquid cleaner PCB in ultrasonic cleaner
❙ Introduce of PCB Mis Print Cleaning Machine
I.C.T-210 pneumatic PCB Auto Cleaning Machine is designed to clean mis print PCB solder paste, squeegee. Driven by compressed air, the machine clean PCB from upper and lower side, by "One button" easy operation, the machine complete "clean + dry "process automatically; patent designed rotation rods guarantee efficient clean and high quality cleaning result.
Features:
1.SUS 304 machine structure, resist Acid and Alkali corrosion.
2.Totally Driven by compressed air , no electric power, totally no fire or explosion risk caused by electrical spark .
3.One button easy operation, clean and dry complete automatically.
4.Push-pull cleaning basket, easy to put and take out cleaning parts, no need special jigs.
5.Equipped auto liquid fill in and discharge function.
6.Liquid recycle use to ensure low consumption.
7.Inner-lock safety door, once open, machine stopped immediately to ensure operator safety.
8.3-level precise filtering system to make liquid clean by recycled use.
9.Super well-known Pneumatic parts from all over the word ensure stable use of the machine.
10.Modular design ensure easy maintenance.

❙ Specification of PCB Mis Print Cleaning Machine
| | |
| --- | --- |
| Item | I.C.T-210 |
| Clean basket size | |
| Clean tank capacity | 50L |
| Clean time | 5~10min |
| Dry time | 4~10min |
| Air supply | 0.5~0.7Mpa |
| Air consumption | 200~600L/min |
| Clean method | 360°rotation spray solvent clean+ air blow dry |
| Filter system | 20um/5um/1um 3-level filter |
| Machine size | L1060 x W800 x H1600(mm) |
| Machine weight | 210KG |
Click Here Get More Informaion!
❙ I.C.T Customer Factory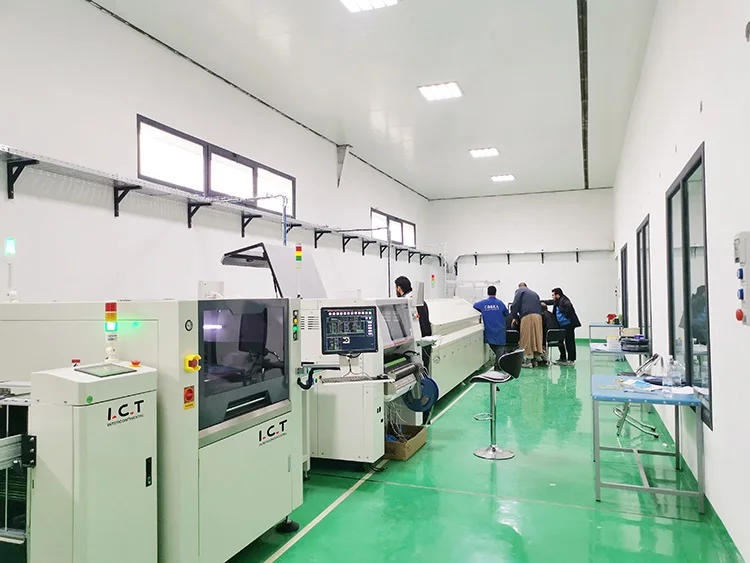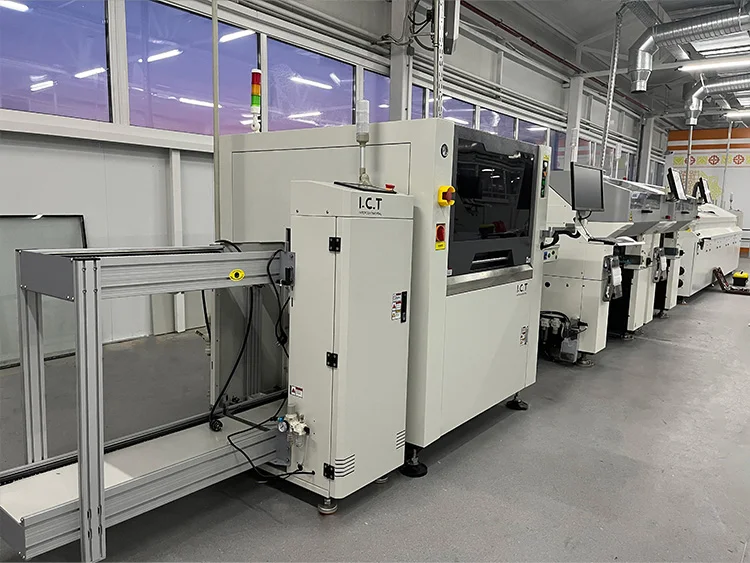 ❙ Company Profile
I.C.T is a manufacturer of SMT machines. It mainly provides customers with SMT Production Line including SMT Stencil Printer, Pick and place machine, Reflow Oven, SMT AOI Machine, Wave Soldering Machine and PCB Handling Machine etc.
I.C.T has more than 25 researches on SMT and DIP technology, for the world Customers provide SMT total solutions. There are successful cases of SMT technical team in Asia, Europe, America, Africa, and Australia.
I.C.T provide SMT solutions at various stages according to the different needs of customers. I.C.T is not only a provider of SMT equipment and technology, but also is the customer's escort in the field of SMT and DIP.
Successful Experience:
I.C.T's Customer In 35 Countries Around the World
1. We Have Been Helping Customers To Build a Lot of New Factories Around the World.
2. Training More Than 500 Experts and Technician for Customers.
3. Became the Most Reliable Chinese Partner for You.
For SMT Factory Setup, We Can Do for You:
1. We Provide Full SMT Solution for You
2. We Provide Core Technology With Our Equipments
3. We Provide The Most Professional Tech Service
Click Here Get More Informaion!
❙ I.C.T SMT Machine Exhibition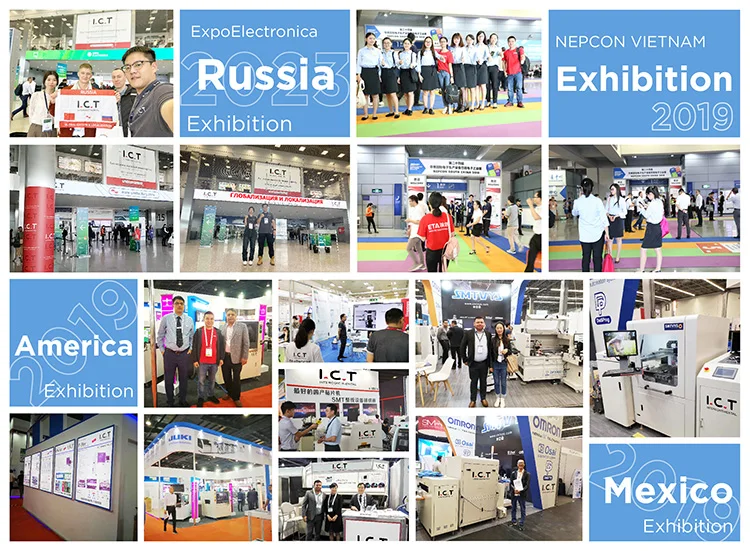 ❙ I.C.T Global Service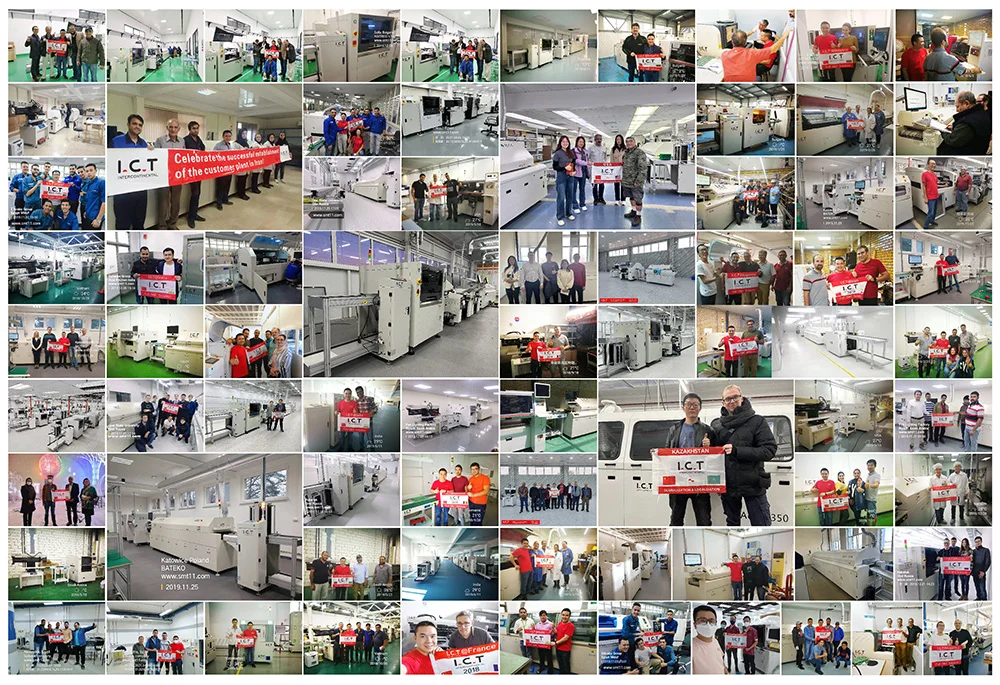 Welcome more people to discuss with us about SMT technologies and solutions, please Contact Us for more information:
Tel: +86 13670124230 (WhatsApp/Skype/WeChat), Email: info@smt11.com / etasmt@foxmail.com
❙ I.C.T PCB Mis Print Cleaning Machine