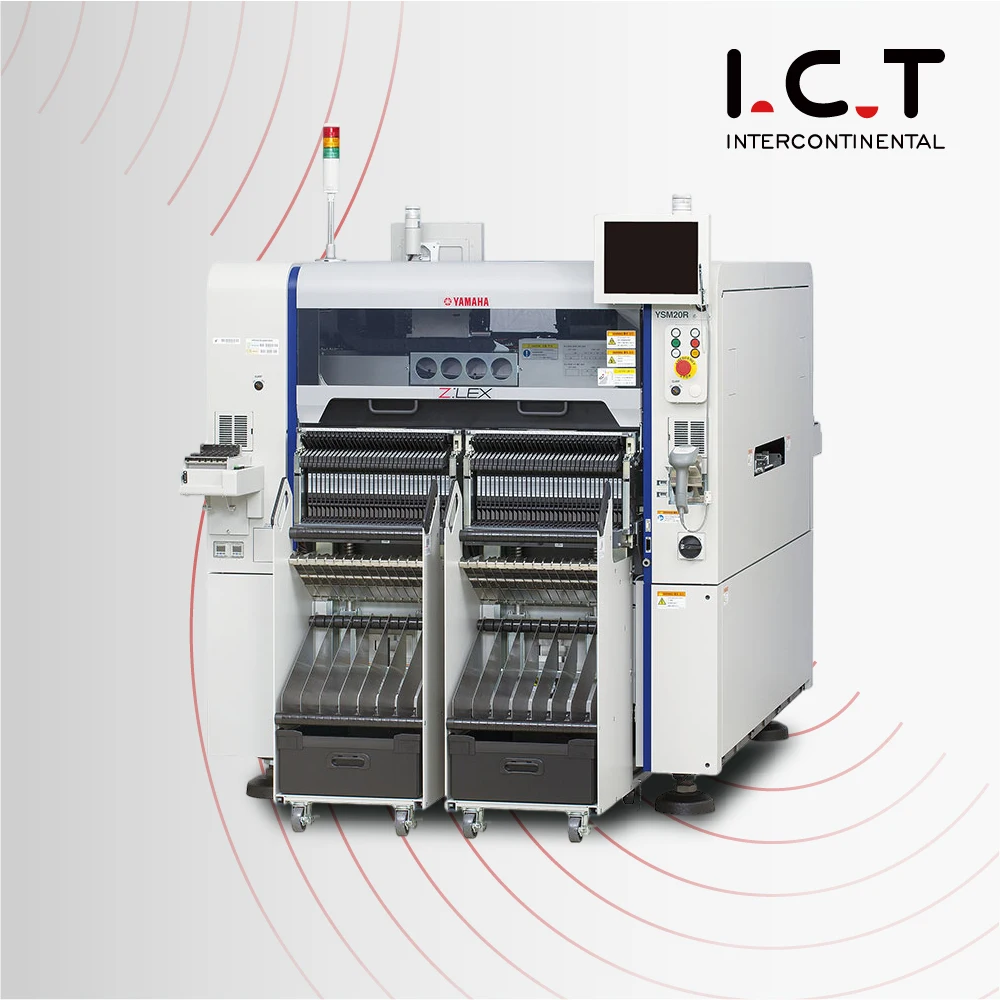 Yamaha YRM20 Modular Pick and Place Machine
Yamaha YRM20 Modular Pick and Place Machine
❙ Features of Yamaha YRM20
Fast and flexible Yamaha pick and place machine, Yamaha modular chip mounter, Yamaha SMT placement. Any item can be produced.
1. Fusion with Σ technology achieves overwhelming productivity
2. Broad-ranging production capacity thanks to the 1-head solution
3. Standard features that maintain component mounting quality at a peak level!
4. Ensures high-efficiency production with a full range of functions!

❙ Specification of Yamaha YRM20
Model
YRM20 Pick and Place Machine


High-speed general-purpose rotary RM head

IN-LINE HM head

Nozzles (per 1 head unit)

18
10
Applicable components

0201 to W12 x L12mm, Height 6.5mm or less

0201 to W55 x L100mm, Height 15mm or less

Mounting capability
(during high-production mode)

115,000CPH

98,000CPH

Mounting accuracy
(during high-precision mode)

During use under in-house optimal conditions : ±0.025mm Cpk≧1.0

Number of component Types

Feeder carriage exchange : Max. 128 types = 32 feeders x 4 (conversion for 8mm tape feeder)

PCB dimensions

Dual-stage specifications
1PCB conveyance : L810 x W510mm to L50 x W50mm
2PCB conveyance : L380 x W510mm to L50 x W50mm

Power supply

3-Phase AC 200/208/220/240/380/400/416V +/-10% 50/60Hz
Air supply source

0.45MPa or more, in clean, dry state

xternal dimension
(excluding projections)

L1374 x W1948 x H1445mm

Weight
Approx. 2,250kg (Main unit only)

Get More Information with Just One Click!
❙
Customers Factory
▽ I.C.T Russia customer - SMT production line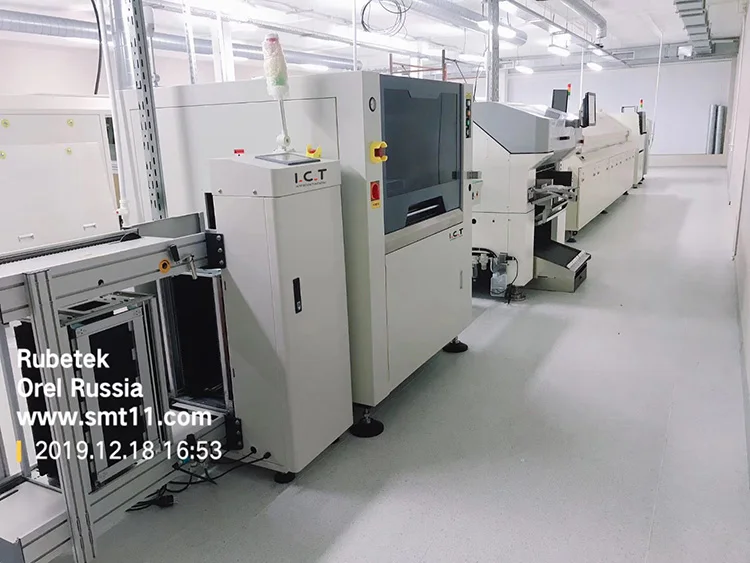 ▽ I.C.T Ecuador customer - LED TV production line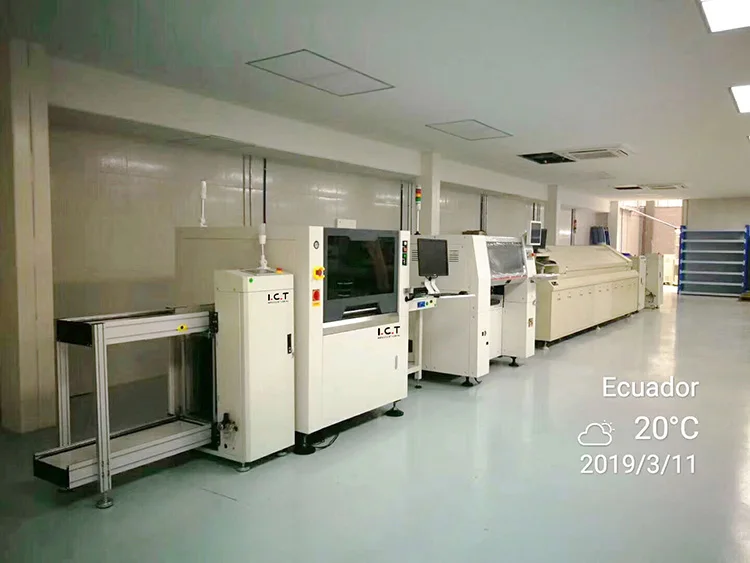 Successful Experience:
I.C.T's Customer In 35 Countries Around the World
1. We Have Been Helping Customers To Build a Lot of New Factories Around the World.
2. Training More Than 500 Experts and Technician for Customers.
3. Became the Most Reliable Chinese Partner for You.
For SMT Factory Setup, We Can Do for You:
1. We Provide Full SMT Solution for You
2. We Provide Core Technology With Our Equipments
3. We Provide The Most Professional Tech Service
4. We Have Wealthy Experience on SMT Factory Setup
5. We Can Solve Any Question About SMT
❙ I.C.T SMT Machine Exhibition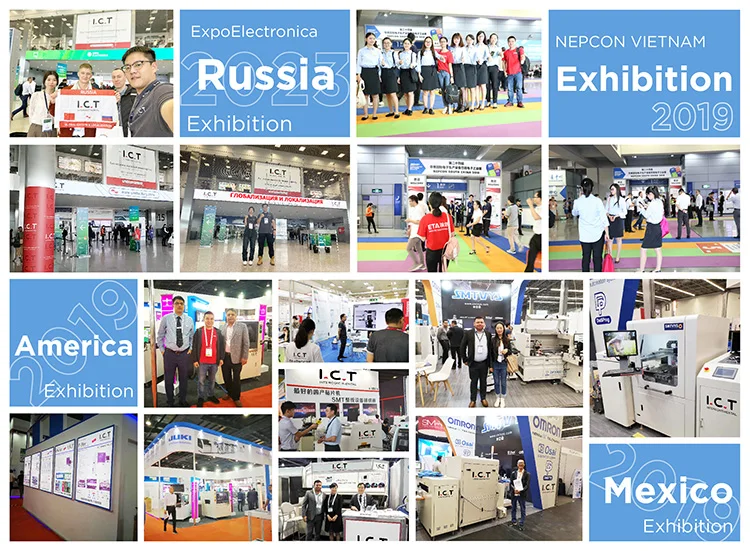 ❙ I.C.T Global Service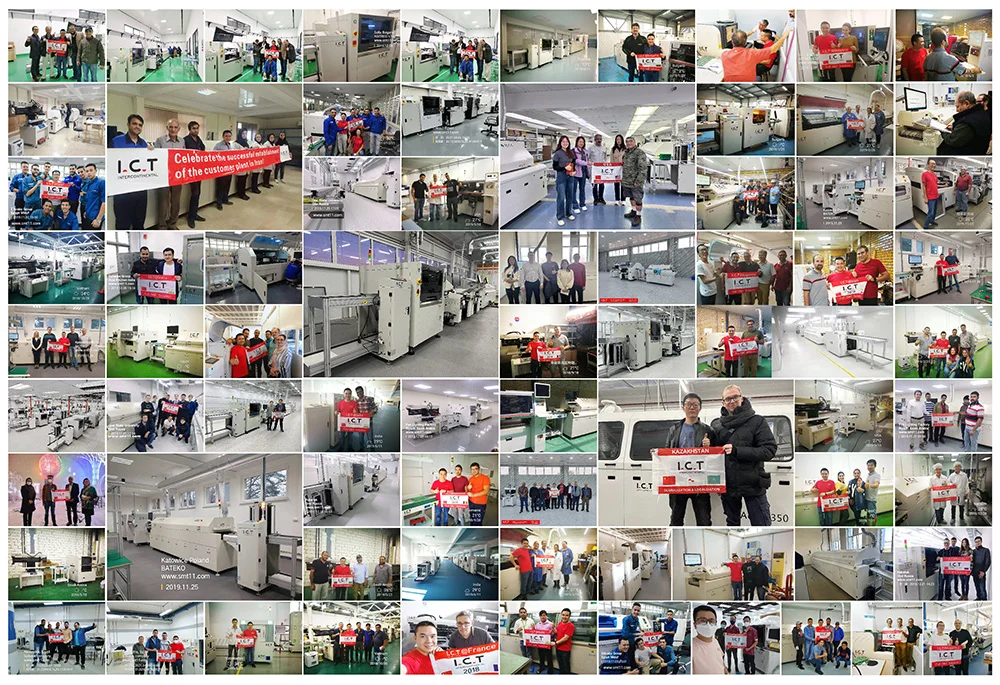 Get More Information with Just One Click!
❙ Keywords:
SMT Pick and Place Machine, JUKI RS-1R Pick and Place Machine, JUKI RX-7R pick and place machine, Hanwha SM481 Plus Pick and Place Machine, SMT482Plus, SMT 471Plus, JUKI Pick and place Machine, Samsung Pick and Place Machine, Yamaha Pick and Place Machine
I.C.T is a manufacturer of SMT Machines. It mainly provides customers with SMT Production Line including SMT Stencil Printer, Pick and place machines, Reflow Oven, SMT AOI Machine, Wave Soldering Machine and PCB Handling Machine etc.
I.C.T has more than 25 researches on SMT and DIP technology, for the world Customers provide SMT Solution. There are successful cases of SMT technical team in Asia, Europe, America, Africa, and Australia.
I.C.T provide SMT solutions at various stages according to the different needs of customers. I.C.T is not only a provider of SMT Equipment and technology, but also is the customer's escort in the field of SMT and DIP.
Welcome more people to discuss with us about SMT technologies and solutions, please contact us for more information: WhatsApp/ Skype / WeChat: +86-13670124230,Email: info@smt11.com
❙ Yamaha Pick and Place Machine Video