90 Degree SMT Magazine Loader
90 Degree SMT Magazine Loader
❙ Introduce of 90 Degree SMT Loader
This unit is used as an inspection station for operators between SMT machine
PCB Handling Machine, SMT Loader, Automatic Magazine Loader, PCB Loader, Nutek Conveyor, PCB Magazine Loader, PCB Unloader, SMT Magazine Loader, SMT Automatic Folding Loader, Automatic SMT Loader, Automatic SMT Unloader, Dual-Rails SMT Unloader, PCB Ng Ok Unloader, SMT Unloader, SMT Vacuum Loader, PCB Automatic Magazine Loader, PCB Vacuum Loader, SMT Telescopic Conveyor, SMTShuttle Conveyor, PCB Stacker Unloader, PCB Stacker Loader, 90 Degree SMT Loader, SMT Conveyor, PCB Conveyor,SMT Inspection Conveyor, SMT Turn Conveyor, SMT Cooling Conveyor, SMT Reject Conveyor, SMT Telescopic Conveyor, SMT Shuttle Conveyor, SMT Link Conveyor, SMT Cooling Conveyor, NG/OK Buffer Conveyor
1.Strong, firm and stable design.
2.'soft touch' LED control panel or touch screen can be selected.
3.Top&bottom pneumatic clamps to secure magazine rack.
4.No PCB breakage guaranty because of special gas circuit design.
5.Automatical diagnosing fault code display function.
6.Wear-resistant cable and have long service life.
7.Compatible SMEMA interface.

❙ Specifications of 90 Degree SMT Loader
Model
LD-M
LD-M

LD-LL

Dimension(mm)

850*1150*1205

850*1350*1205

1250*1550*1205

PCB Size(mm)

50*50-330*250

50*50-445*330

50*50-530*390

Rack Size(mm)

355*320*563

460*400*563

535*460*563

Control System

PLC
Power Supply

1 PH AC 220V 50/60Hz (Option:110V to 380V)

Weigh
180 Kg
240 Kg
300 Kg
Click Here Get More Informaion!
❙ I.C.T SMT Handling Machine
❙ I.C.T Customer Factory
❙ Company Profile
I.C.T is a manufacturer of SMT machines. It mainly provides customers with SMT Production Line including SMT Stencil Printer, Pick and place machine, Reflow Oven, SMT AOI Machine, Wave Soldering Machine and PCB Handling Machine etc.
I.C.T has more than 25 researches on SMT and DIP technology, for the world Customers provide SMT total solutions. There are successful cases of SMT technical team in Asia, Europe, America, Africa, and Australia.
I.C.T provide SMT solutions at various stages according to the different needs of customers. I.C.T is not only a provider of SMT equipment and technology, but also is the customer's escort in the field of SMT and DIP.
Successful Experience:
I.C.T's Customer In 35 Countries Around the World
1. We Have Been Helping Customers To Build a Lot of New Factories Around the World.
2. Training More Than 500 Experts and Technician for Customers.
3. Became the Most Reliable Chinese Partner for You.
For SMT Factory Setup, We Can Do for You:
1. We Provide Full SMT Solution for You
2. We Provide Core Technology With Our Equipments
3. We Provide The Most Professional Tech Service
Click Here Get More Informaion!
❙ I.C.T SMT Machine Exhibition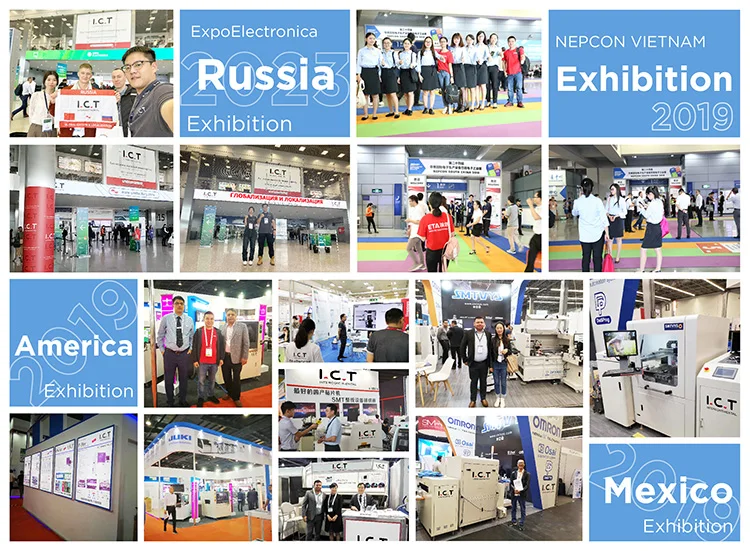 ❙ I.C.T Global Service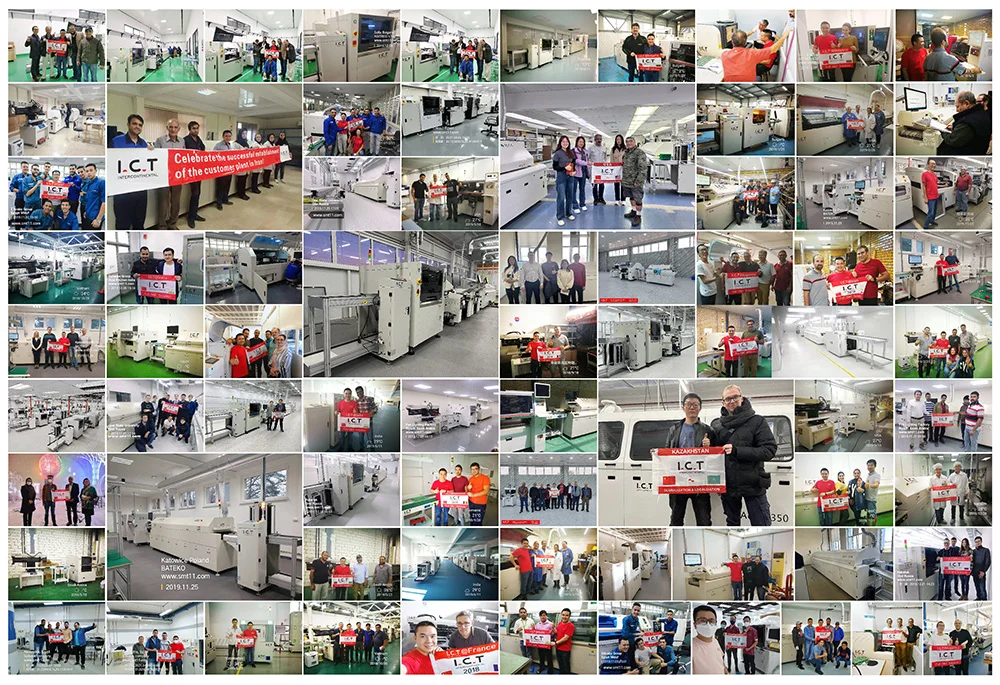 Welcome more people to discuss with us about SMT technologies and solutions, please Contact Us for more information:
Tel: +86 13670124230 (WhatsApp/Skype/WeChat), Email: info@smt11.com / etasmt@foxmail.com
❙ SMT Conveyor Video