JUKI RX-6B Compact Modular SMT Mounter
❙ Introduce of JUKI SMT Mounter
High-speed compact modular JUKI SMT pick and place machine, JUKI modular mounter, JUKI SMT placement with high flexibility.

❙ Specification of JUKI SMT Mounter
High-Speed Compact Modular SMT Placement
Board size
Single lane conveyor:
50×50 ~ 610×590 / 905×590(2times clamping)
Dual lane conveyor*6:
50×50 ~ 360×250 / 360×450(single lane conveyor specification mode)
Component size
0402mm(01005 inch) ~ 50mm×50mm*4
0402mm(01005 inch) ~ 100mm×100mm / 50×180mm*5
Placement speed

Chip : 52,000CPH*2
IC : 14,000CPH*3

Head unit
6×6nozzle head
6×3nozzle head *6
1.This is applicable to dual-lane production.*6
2.Compact footprint : the width is just 1.25m
3. Equipped with standard Placement Monitor check function.*1
4. Replaceable head allow you to configure a production line best suited to the current repirments.*6
5. High-speed component placement using high-speed non-stop vision recognition.*3
6. Wide range of components and boards: tall components, large components and large boards.
7. Brand new Matrix Tray Sever TR8S improves the component capability and productivity.
*1 Only available RX-6B 6 nozzle head
*2 When using RX-6R
*3 Option
*4 When using RX-6R/RX-6B 6×6 nozzle head
*5 When using RX-6B 6×3 nozzle head
*6 Only available RX-6B
❙ Customers Factory
▽ ETA Russia customer - SMT production line and DIP line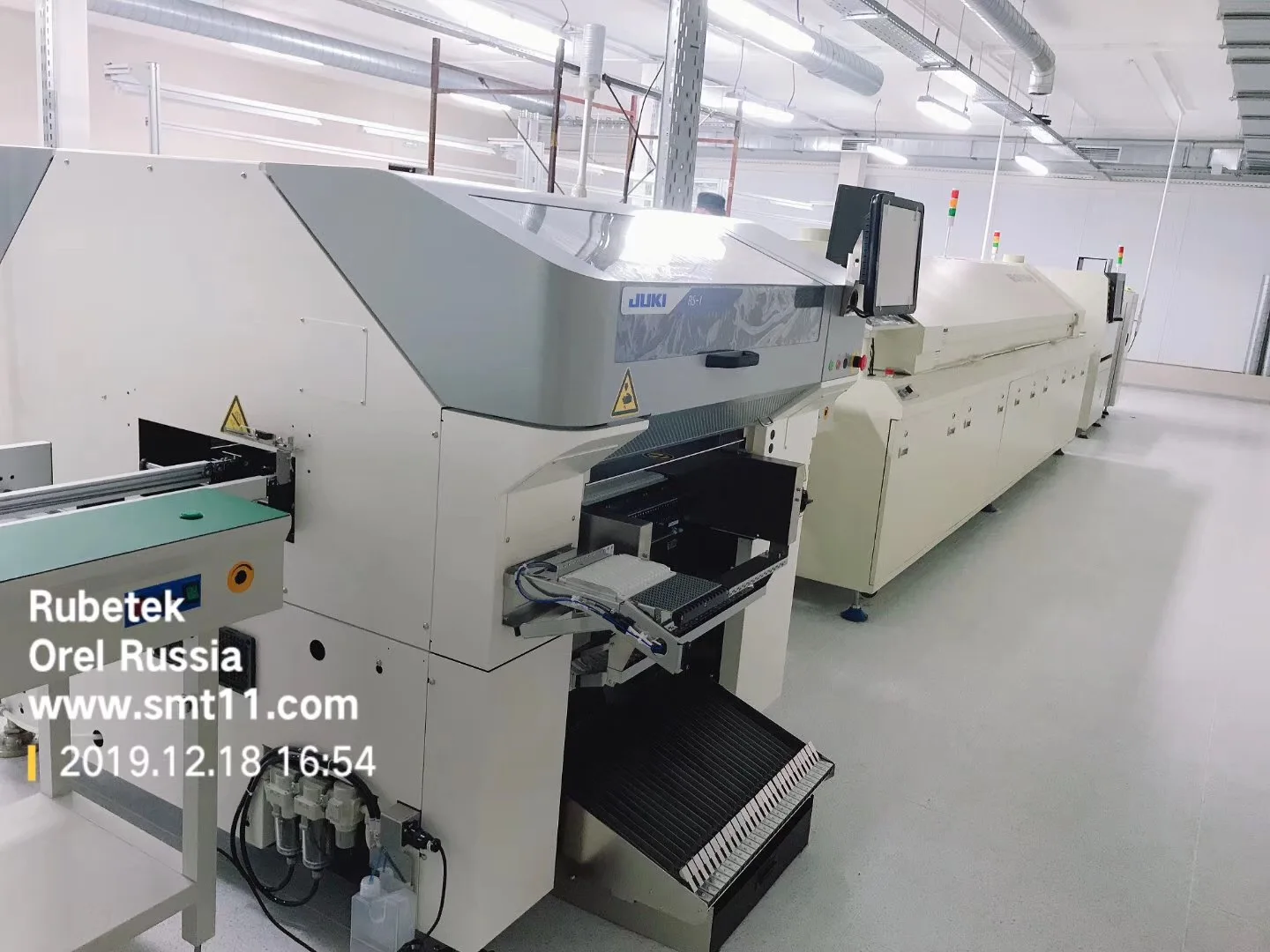 ▽ ETA India customer - SMT production line (2 line)
❙ Company Profile
ETA is the SMT machine supplier with professional 25-year-experienced sales and after sales team, providing SMT solutions including pick and place machine, reflow oven, SMT stencil printer, SMT line and wave soldering machine.
We also provide the best SMT technical services and accessories support for JUKI, HANWHA/SAMSUNG, YAMAHA, PANASONIC pick and place machine.
Successful Experience:
Eta's Customer In 35 Countries Around the World
1. We Have Been Helping Customers To Build a Lot of New Factories Around the World.
2. Training More Than 500 Experts and Technician for Customers.
3. Became the Most Reliable Chinese Partner for You.
For SMT Factory Setup, We Can Do for You:
1. We Provide Full SMT Solution for You
2. We Provide Core Technology With Our Equipments
3. We Provide The Most Professional Tech Service
4. We Have Wealthy Experience on SMT Factory Setup
5. We Can Solve Any Question About SMT
❙ ETA SMT Machine Exhibition
❙ ETA SMT Machine Certificate
❙ ETA Global Service
❙ Customers' Feedback
❙ FAQ
Q: What we can do for you?
A: Total SMT Machines and Solution, professional Technical Support and Service.
Q:Are you a trade company or a manufacturer?
A: OEM & ODM service are available.
Q: What is your delivery date?
A: The delivery date is about 35 days after receipt of payment.
Q: What is your payment terms?
A: 30% deposit in advance and 70% balance before shipment.
Q: What your main customers?
A: Huawei,Foxconn,Vtech,Sumida,Kemet,Vishay,Bosch,Canon.
Q: Why choose us?
A: Leading SMT Supplier in China; Trade assurance to USD 560,000+; Professional after-sales service team.
❙ Packaging & Shipping
If you could not find any similar items you want, you may send some photos to us. because our catalog and website haven't included all of our products.
Keywords:
SMT pick and place machine, JUKI RS-1R pick and place machine, JUKI RX-7R pick and place machine, Hanwha SM481 Plus Pick and Place Machine, SMT482Plus, SMT 471Plus, JUKI Pick and place Machine, Samsung Pick and Place Machine, Yamaha Pick and Place Machine
ETA is a manufacturer of SMT machines. It mainly provides customers with SMT production lines including SMT Stencil Printers, Pick and place machines, Reflow Oven, AOI Machine, Wave Soldering Machine and PCB Handling Machine etc.
ETA has more than 25 researches on SMT and DIP technology, for the world Customers provide SMT total solutions. There are successful cases of SMT technical team in Asia, Europe, America, Africa, and Australia.
ETA provide SMT solutions at various stages according to the different needs of customers. ETA is not only a provider of SMT equipment and technology, but also is the customer's escort in the field of SMT and DIP.
Welcome more people to discuss with us about SMT technologies and solutions, please contact us for more information: WhatsApp/ Skype / WeChat: +86-13670124230,Email: etasmt@foxmail.com
❙ JUKI Modular SMT Mounter Video