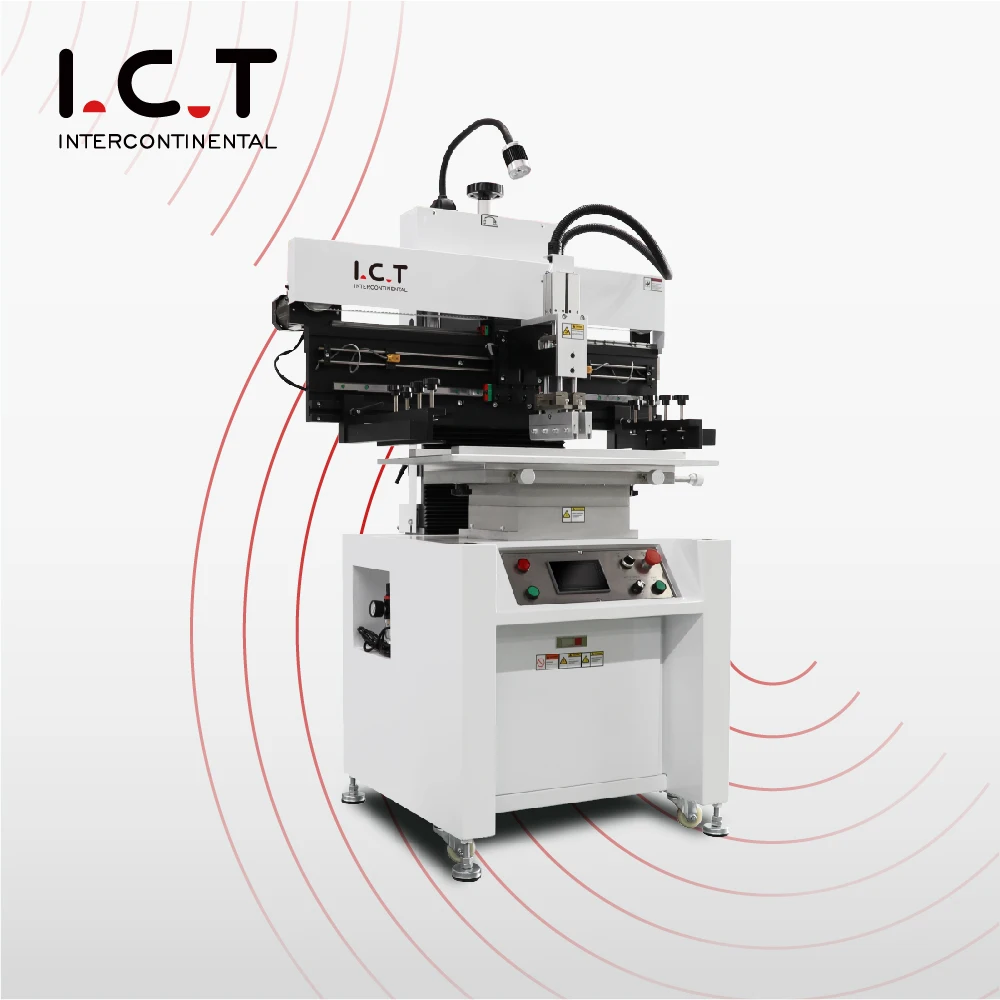 P3 Semi-automatic PCB SMT Screen Printer
I.C.T P3 Semi-automatic PCB SMT Screen Printer
❙ Introduce of SMT Stencil Printer
I.C.T high quality Semi-automatic Screen Printer, SMT screen printer, SMT stencil printer, PCB printing machine for SMT LED production line.
1.Using linear guide-ways, matching motor drive speed , ensure the printing stability and precision.
2.Blade pressure and printing speed is adjustable, precision pressure gauge, speed controller display.
3.Suspension blade system makes printing more evenly.
4.Modular universal bench, thimble random placement , easy conversion.
5.With alignment device for PCB board and frame.
6.Work with both single-sided and double-sided PCB boards.
7.Steel frame arms can be adjusted for different size ranges from 370 * 470mm to 1500 * 350mm .
8.Auto printing , stable and efficient printing quality.

❙ Specification of SMT Stencil Printer

Model
P3
P6
P12
Accuracy

+/- 0.05mm

+/- 0.05mm

+/- 0.05mm

PCB Size

300 x 350 mm

600 x 350 mm

1200 x 350 mm

Platform size

300 x 350 mm

700 x 400 mm

1350 x 400 mm

Stencil Size(mm)

370*470,550*650

370*470,550*650

370*470,550*650,1500*650

PCB Thickness

0.2 - 6 mm

0.2 - 6 mm

0.2 - 6 mm

Stencil Positioning

Manual

Manual

Manual

Cycle Time

< 10 Sec.

< 10 Sec.

< 12 Sec.

Power Consumption

200 W

200 W

200 W

Power Supply

1 -PH, 220VAC 50/60HZ

1 -PH, 220VAC 50/60HZ

1 -PH, 220VAC 50/60HZ

Air Pressure

4.5-6 kg/cm

4.5-6 kg/cm

4.5-6 kg/cm

Squeegee Speed

0-1500mm/sec

0-1500mm/sec

0-1500mm/sec

Dimension

850x750x1650 mm

1050x750x1650 mm

1660x750x1650 mm

Weight

280 Kg

300 Kg

356 Kg

Squeegee Length

250mm

250mm

250mm

Platform Height

950mm

950mm

950mm

Option: Special size can be customized

❙ Customers Factory
▽ I.C.T PCB printing machine in Saudi Arabia
❙ Customers' Feedback
❙ FAQ
Q: What we can do for you?
A: Total SMT Machines and Solution, professional Technical Support and Service.
Q:Are you a trade company or a manufacturer?
A: OEM & ODM service are available.
Q: What is your delivery date?
A: The delivery date is about 35 days after receipt of payment.
Q: What is your payment terms?
A: 30% deposit in advance and 70% balance before shipment.
Q: What your main customers?
A: Huawei,Foxconn,Vtech,Sumida,Kemet,Vishay,Bosch,Canon.
Q: Why choose us?
A: Leading SMT Supplier in China; Trade assurance to USD 560,000+; Professional after-sales service team.
❙ I.C.T Global service
❙ Keywords:
SMT Stencil printer, SMT solder paste printer, SMT printing machine, SMT PCB printer, 600mm Solder paste printer, 1200mm solder paste printer, Solder paste printer, semi-auto solder paste printer, smt automatic stencil printer, smt screen printing machine
I.C.T is a manufacturer of SMT machines. It mainly provides customers with SMT production lines including SMT Stencil Printers, Pick and place machines, Reflow Oven, AOI Machine, Wave Soldering Machine and PCB Handling Machine etc.
I.C.T has more than 25 researches on SMT and DIP technology, for the world Customers provide SMT total solutions. There are successful cases of SMT technical team in Asia, Europe, America, Africa, and Australia.
I.C.T provide SMT solutions at various stages according to the different needs of customers. ETA is not only a provider of SMT equipment and technology, but also is the customer's escort in the field of SMT and DIP.
Welcome more people to discuss with us about SMT technologies and solutions, please contact us for more information:
WhatsApp/ Skype / WeChat: +86-13670124230
Email: info@smt11.com / etasmt@foxmail.com
❙ LED Stencil Printer Video