I.C.T SMT PCB Laser Marking Machine
❙ Introduce of SMT Laser Marking Machine
ETA high precision SMT PCB laser marking machine, used to mark text, barcode, 2D code & graphic on PCB, ETA laser marking machine is mainly used in PCB industry. It can connect SMT assembly line seamlessly and support online data transmission and information return of MES system.
Features:
1. The performance of the CO2 laser, fiber laser, green laser and UV laser is stable.
2. High speed vibrating mirror is adopted,high precision,high speed,and performance is stable.
3. CCD positioning is fast and accurate, and can be automatically recognized after marking.
4. The software interface is humanized, the operation is simple and easy to learn, and the editing function is powerful.
5. Automatically read the two dimensional code and save the data.Automatically record and alarm when it is unable to read. 6. Compared with ordinary printing, no consumables, environmental pollution free, maintenance free.
7. It has the function of anti reprinting data to avoid repeated marking of information.
8. It can be seamlessly connected with SMT line and MES system.
9. Offline and online compatible.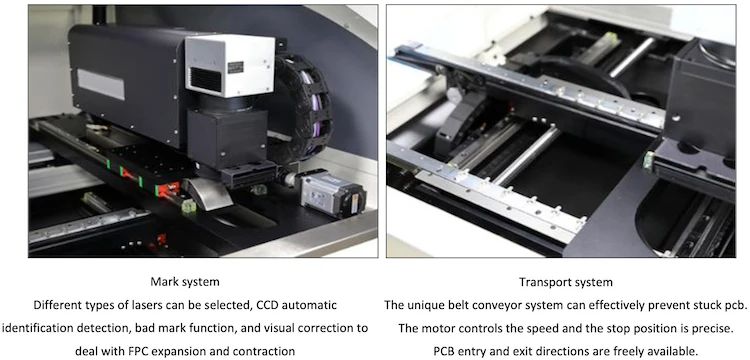 Application:

❙ Specification of SMT Laser Marking Machine
Item
ETA-400
ETA-510
Laser Type

UV laser,Green laser,Fiber laser,CO2 laser

Wave Length

UV laser:355nm, Green laser:532nm, Fiber laser:1064nm, CO2 laser:10640nm

Laser Power

UV laser:3W(5W Option), Green laser:7W, Fiber laser:20W, CO2 laser:30W

PCB Flip Function

Inside PCB Flip

N/A(Outside Fliper)

PCB Size

<L400mm * W320mm

<L510mm * W460mm

Applicable Product

QR code,PCB ink,ink,ink and other green blue ink;copper,aluminum etc..

Position System

CCD+MARK

One Dimensional Code Type

Code 39, Code 25, Code 93, Code 128, EAN-13, EAN-8, ISBN, etc.

Two Dimensional Code Type

Datamatrix, QR Code, micro QR Code, PDF417, Code 49, Code 16K, etc.

wo Dimensional Code Type

1.5mm * 1.5mm ~ 10mm * 10mm

Body Size

L800 *W1550 *H1500 mm

L910 *W1550 *H1500 mm

❙ ETA Customer Factory
▽ Russia SMT production line (smart appliances)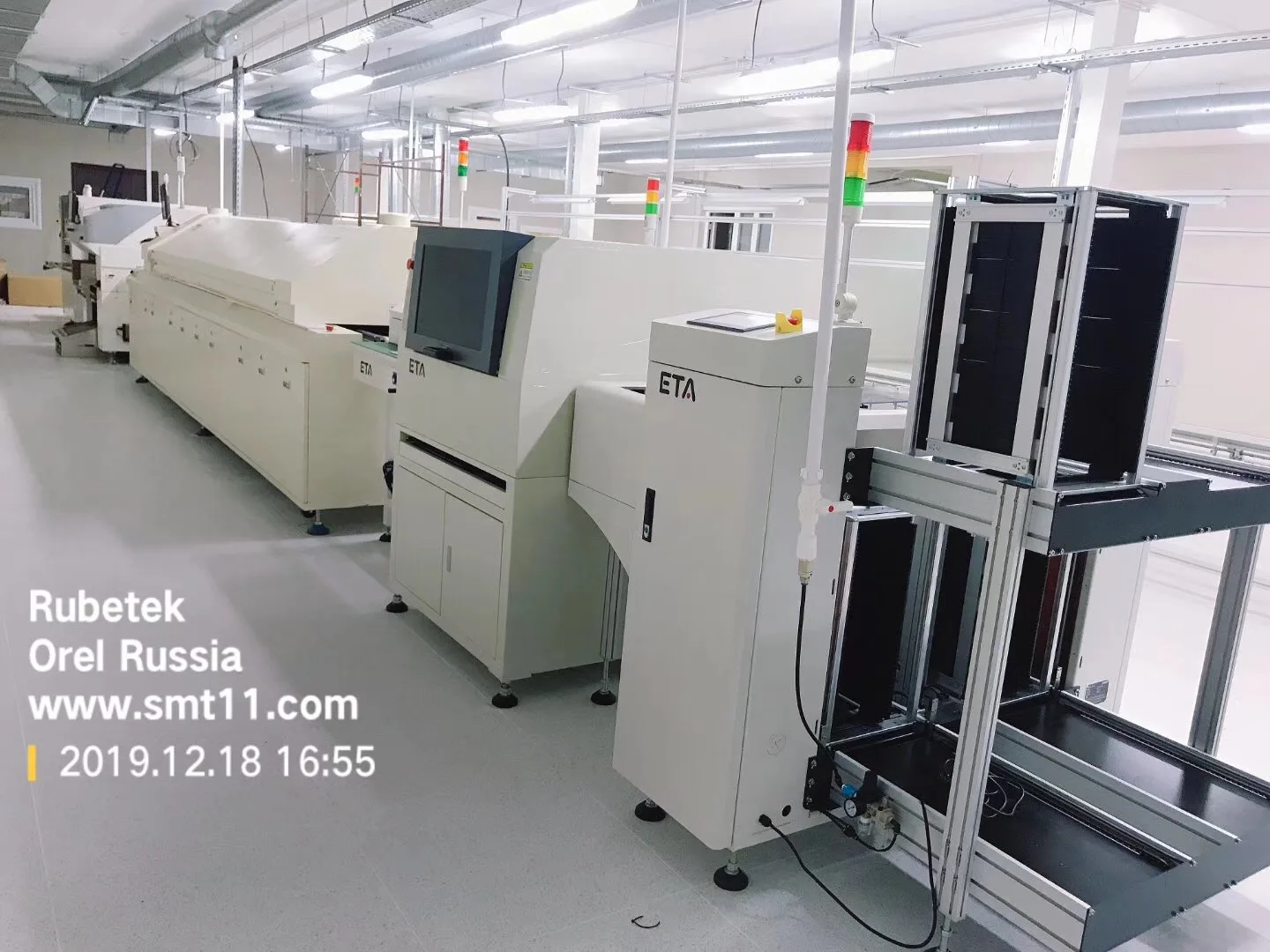 ▽ Algeria LED TV production line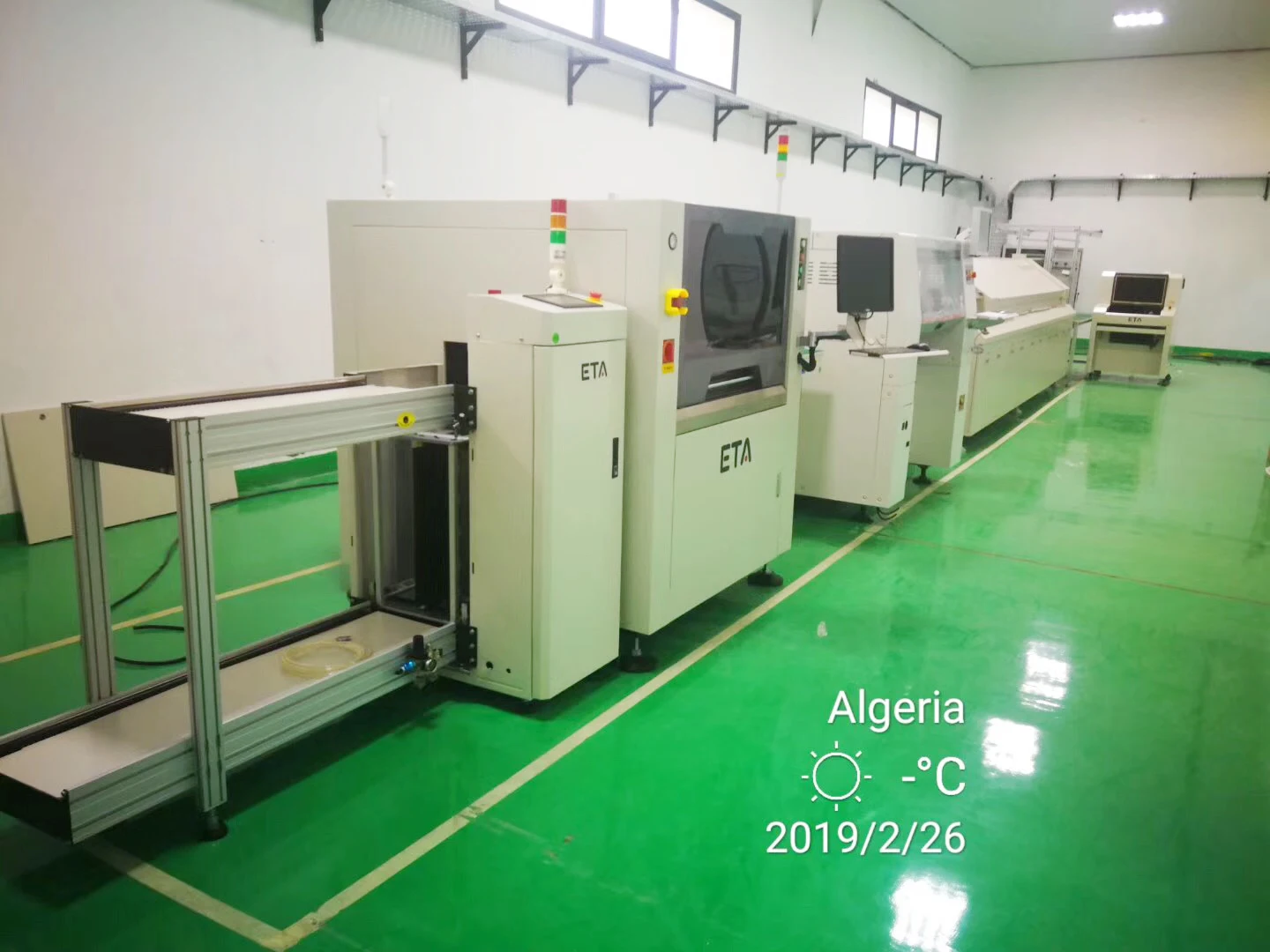 ❙ Company Profile
ETA is the SMT machine supplier with professional 25-year-experienced sales and after sales team, providing SMT solutions including pick and place machine, reflow oven, SMT stencil printer, SMT line and wave soldering machine.
We also provide the best SMT technical services and accessories support for JUKI, HANWHA/SAMSUNG, YAMAHA, PANASONIC pick and place machine.
Successful Experience:
Eta's Customer In 35 Countries Around the World
1. We Have Been Helping Customers To Build a Lot of New Factories Around the World.
2. Training More Than 500 Experts and Technician for Customers.
3. Became the Most Reliable Chinese Partner for You.
For SMT Factory Setup, We Can Do for You:
1. We Provide Full SMT Solution for You
2. We Provide Core Technology With Our Equipments
3. We Provide The Most Professional Tech Service
4. We Have Wealthy Experience on SMT Factory Setup
5. We Can Solve Any Question About SMT
❙ ETA Exhibition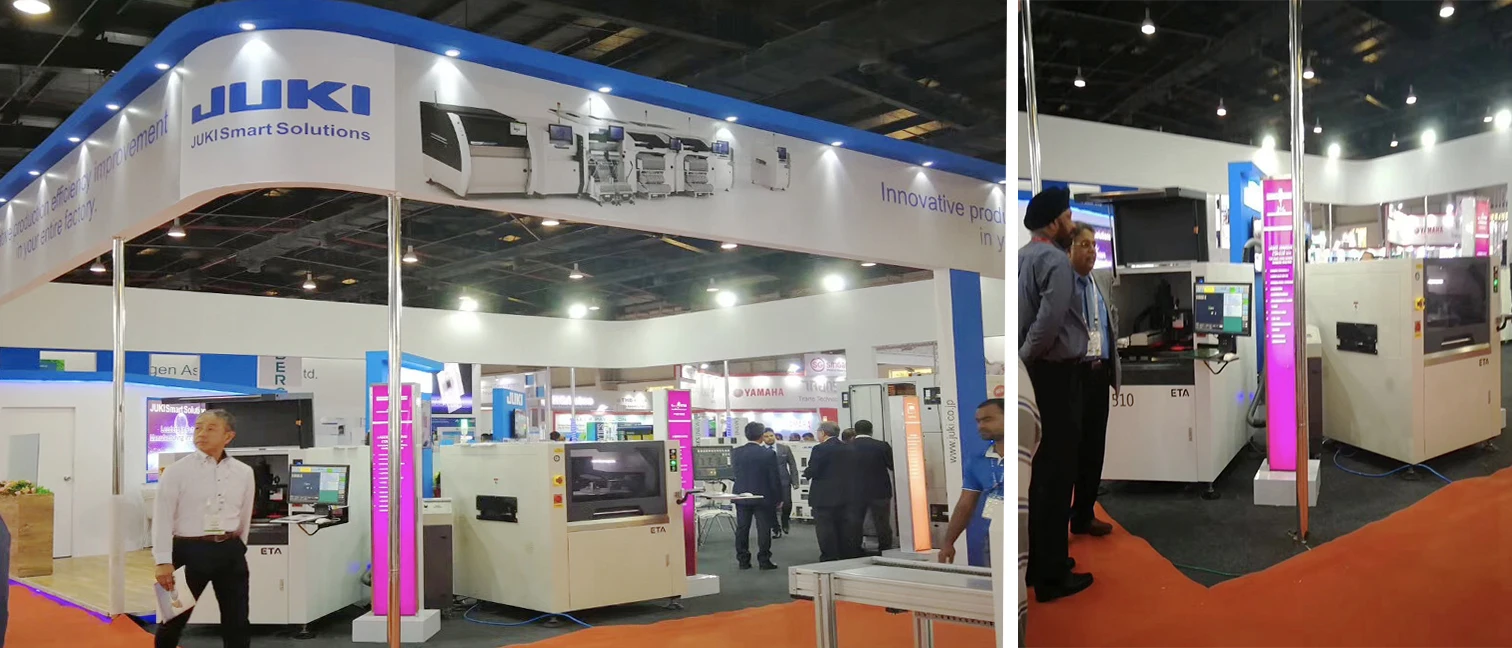 ❙ DIP On-Line AOI Certificate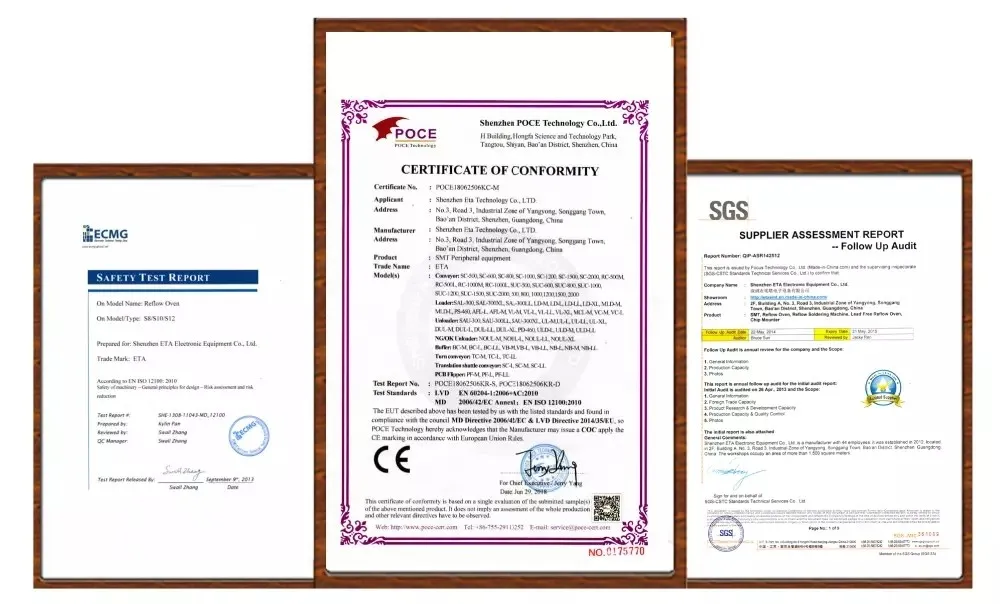 ❙ ETA Global Service
❙ Customers' Feedback
❙ FAQ
Q: What we can do for you?
A: Total SMT Machines and Solution, professional Technical Support and Service.
Q:Are you a trade company or a manufacturer?
A: OEM & ODM service are available.
Q: What is your delivery date?
A: The delivery date is about 35 days after receipt of payment.
Q: What is your payment terms?
A: 30% deposit in advance and 70% balance before shipment.
Q: What your main customers?
A: Huawei,Foxconn,Vtech,Sumida,Kemet,Vishay,Bosch,Canon.
Q: Why choose us?
A: Leading SMT Supplier in China; Trade assurance to USD 560,000+; Professional after-sales service team.
❙ Packaging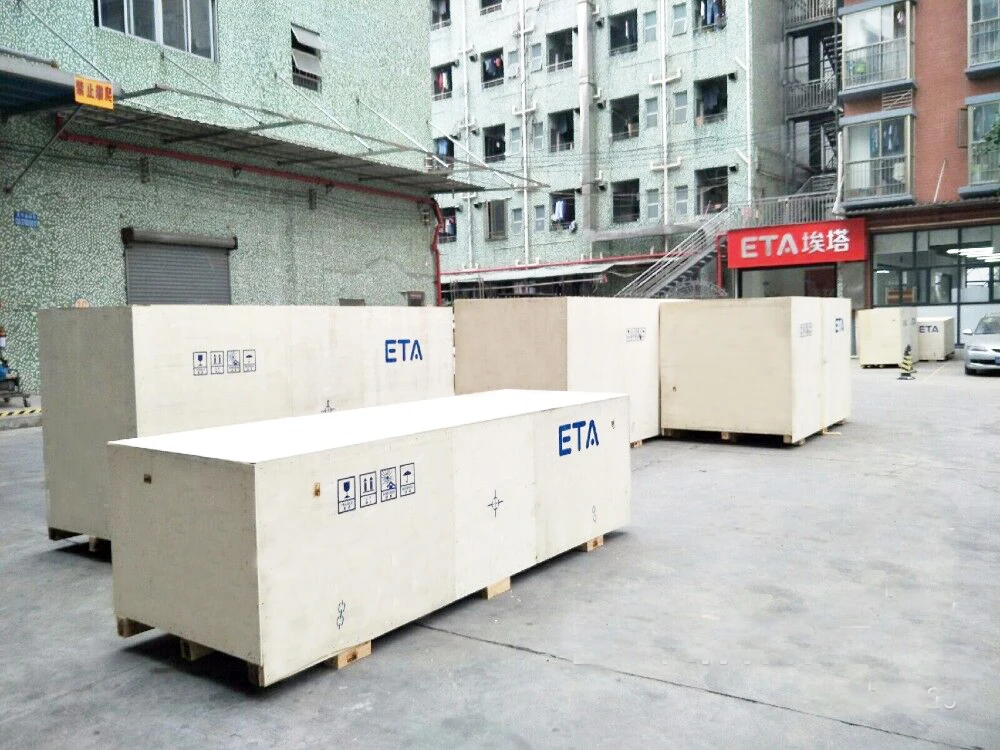 If you could not find any similar items you want, you may send some photos to us. because our catalog and website haven't included all of our products.
ETA is a manufacturer of SMT machines. It mainly provides customers with SMT production lines including SMT Stencil Printers, Pick and place machines, Reflow Oven, AOI Machine, Wave Soldering Machine and PCB Handling Machine etc.
ETA has more than 25 researches on SMT and DIP technology, for the world Customers provide SMT total solutions. There are successful cases of SMT technical team in Asia, Europe, America, Africa, and Australia.
ETA provide SMT solutions at various stages according to the different needs of customers. ETA is not only a provider of SMT equipment and technology, but also is the customer's escort in the field of SMT and DIP.
Welcome more people to discuss with us about SMT technologies and solutions, please contact us for more information: WhatsApp/ Skype / WeChat: +86-13670124230,Email: etasmt@foxmail.com
❙ SMT Laser Marking Machine