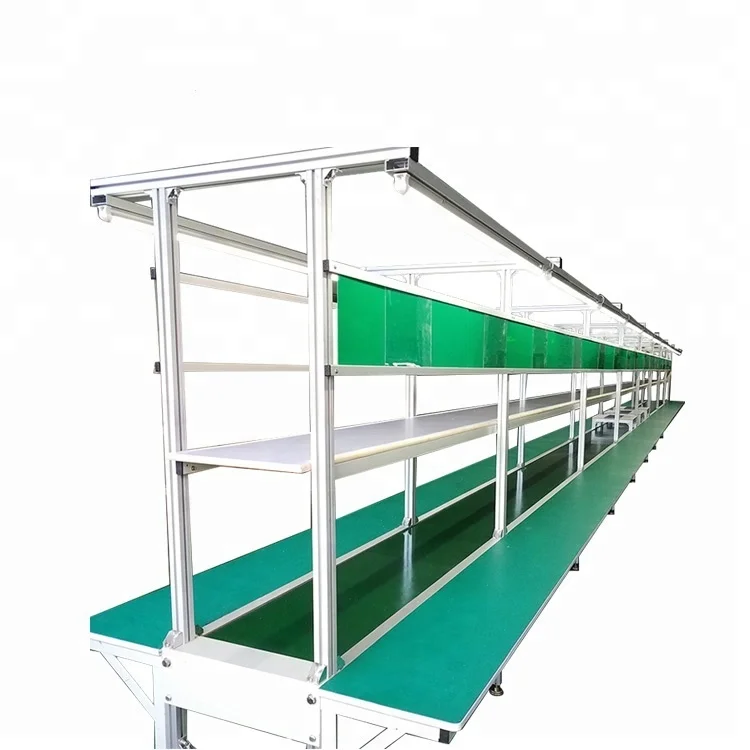 Electronic Product Belt Assembly Line for SMT Production Line
Electronic Product Belt Assembly Line for SMT Production Line

Products introduction:

1.stand is made of 40*40*1.5mm painted Iron square tube
2.whole line's chain and conveying plated
3.automatic conveying system, the speed can be setted and adjustable
4.there's aluminum clasps for SOP papers, it is easy to see for the workers
5.ESD equipped for the assembly line
6.each worker's working station with a individual light and switch
other application can be custom designed by the customer

SMT Pick and Place Machine
Click here for more information
ETA Competitive Price Unloader Manufacturing Machines

ETA Competitive Price Unloader Manufacturing Machines

ETA Competitive Price Unloader Manufacturing Machines

ETA is the leading manufacturer for smt machines and solution with 23 years' experience in China. And we are aslo the only Chinese SMT supplier for Huawei factory in China.

Successful Experience:
Eta's customer in 35 countries around the world
※ We have been helping customers to build a lot of new factories around the world.
※ Training more than 500 experts and technician for customers.
※ Became the most reliable Chinese partner for you.

For SMT factory setup,we can do for you:
※ We provide fulL SMT solution for you
※ We provide core technology with our equipments
※ We provide the most professional tech service
※ We have wealthy experience on SMT factory setup
※ We can solve any question about SMT

ETA Engineer installed in Iran
ETA Engineer installed in Iran
ETA Engineer installed in Argentina


■ Pre-Consultation: provides professional SMT solutions for the full line.
■ Factory Warranty: One-year warranty factory service.
■ Installation: On-site installation and commissioning, to ensure smooth production.
■ Technical Training: provides professional training from Level 1 to Level 3.
■ Technical Support: provides 7 * 24 technical support.
■ Software Upgrade: offers lifetime free software upgrades for all products

Packing Method:
※ Standard wooden package
Shipping Way:
※ By air, for sample and small package,international express like DHL, UPS, EMS...
※ By sea, for large package and quantity;
※ Other ways as customer requested.
Delivery Time:
※ 35 Days
1.Are you a trade company or a manufacturer?
=》OEM & ODM service are available.

2.What is your delivery date?
=》The delivery date is about 35 days after receipt of payment.

3.What is your payment terms?
=》30% deposit in advance and 70% balance before shipment.

4.What your main customers?
=》Huawei,Foxconn,Vtech,Sumida,Kemet,Vishay,Bosch,Canon.

Page search keywords:
Electronic Product Belt Assembly Line For Smt Production Line - Buy Led Assembly Line,Led Belt Assembly Line,Assembly Line Product
,By I.C.T Pick and Place Machine Manufacturing,WaweisIt mainly produces:
Reflow Oven
,
Pick and Place Machine
,
SMT Machine
.