I.C.T-8200 | x-ray machine machine for SMT Production Line
❙ Introduce of SMT PCBA X-ray Machine
The I.C.T-8200 is designed to provide high resolution x-ray imaging primarily for the electronics industry. This versatile system is effective for many applications within the PCB manufacturing process. This includes BGA, CSP, QFN, Flip Chip, COB and the wide range of SMT components. I.C.T-8200 is a powerful support tool for process development, process monitoring and refinement of the rework operation.
Features:
1.90kV 5μm closed X-ray tube
2.High resolution FPD with 4-axis motion system, meet basic inspection demands
3.Navigation in windows, target tracking conveniently
4.CNC program, improve efficiency significantly
5.Max. loading area 440mm×400mm, max. inspection area 420mm×380mm, with 360X Magnification
6.BGA void/area auto-measurement plus report generation
7.Multi-function DXI image processing system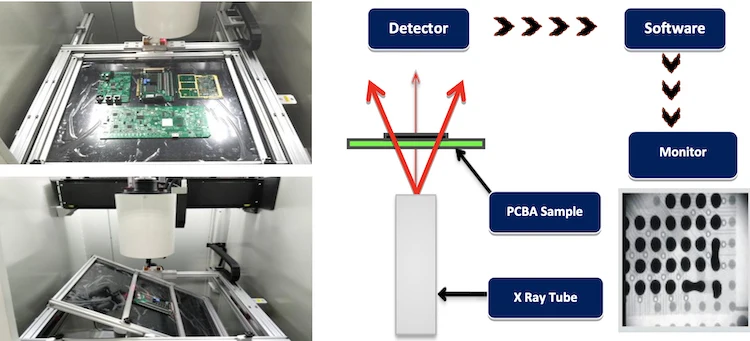 X-Ray Inspection Images: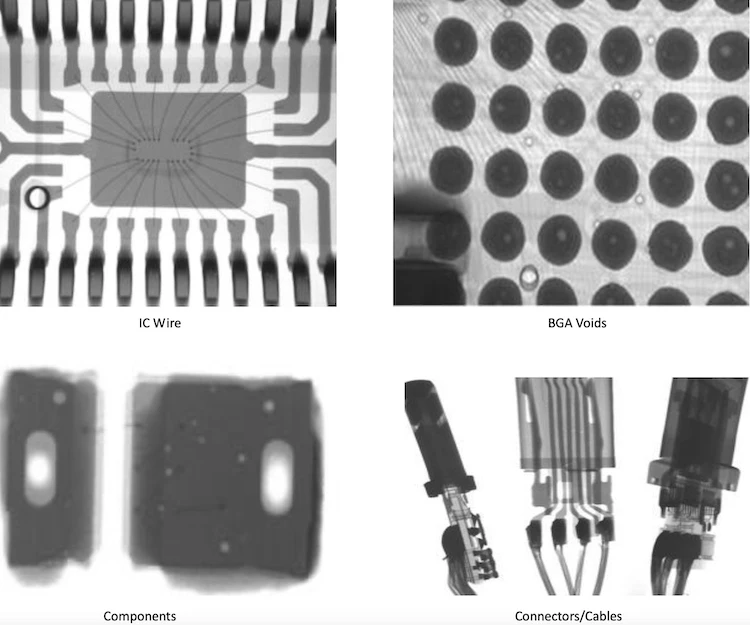 ❙ Specification of SMT PCBA X-ray Machine
Item

Model
I.C.T-8200

X-Ray Tube

Max. Voltages, Type

90kV, Closed

Power Consumption

8 w
Focal Spot Size

5 μm

Motion range (Up and Down)

150mm

Magnification

600X

Detector

Intensifier

4"/2" (FPD Optional)
Camera

77/110 LP/cm

Effective Area

58mm×54mm

Motion range (Up and Down)

290mm

System Computer

Operating System

Industrial PC, Win 7, i7 Processor, 22" LCD Monitor
Working Platform

Max. Loading Area

510mm×420mm

Max. Inspection Area

435mm×385mm

Max. Loading Weight

10kg

Movement Control

Joysticks, Mouse and Keypads

❙ I.C.T Customer Factory
▽ Russia SMT production line (smart appliances)

Successful Experience:
I.C.T's Customer In 35 Countries Around the World
1. We Have Been Helping Customers To Build a Lot of New Factories Around the World.
2. Training More Than 500 Experts and Technician for Customers.
3. Became the Most Reliable Chinese Partner for You.
For SMT Factory Setup, We Can Do for You:
1. We Provide Full SMT Solution for You
2. We Provide Core Technology With Our Equipments
3. We Provide The Most Professional Tech Service
4. We Have Wealthy Experience on SMT Factory Setup
5. We Can Solve Any Question About SMT
❙ I.C.T Exhibition
❙ Certificate
❙ I.C.T Global Service
❙ FAQ
Q: What we can do for you?
A: Total SMT Machines and Solution, professional Technical Support and Service.
Q:Are you a trade company or a manufacturer?
A: OEM & ODM service are available.
Q: What is your delivery date?
A: The delivery date is about 35 days after receipt of payment.
Q: What is your payment terms?
A: 30% deposit in advance and 70% balance before shipment.
Q: What your main customers?
A: Huawei,Foxconn,Vtech,Sumida,Kemet,Vishay,Bosch,Canon.
Q: Why choose us?
A: Leading SMT Supplier in China; Trade assurance to USD 560,000+; Professional after-sales service team.
❙ Packaging
If you could not find any similar items you want, you may send some photos to us. because our catalog and website haven't included all of our products.
❙ Keywords:
SMT AOI Machine, Offline AOI Machine, Inline AOI Machine, SMT X Ray Machine, SMT SPI Machine, 3D SPI Machine, 3D AOI Machine, SMT AOI SPI Machine
I.C.T is a manufacturer of SMT machines. It mainly provides customers with SMT production lines including SMT Stencil Printers, Pick and place machines, Reflow Oven, AOI Machine, Wave Soldering Machine and PCB Handling Machine etc.
I.C.T has more than 25 researches on SMT and DIP technology, for the world Customers provide SMT total solutions. There are successful cases of SMT technical team in Asia, Europe, America, Africa, and Australia.
I.C.T provide SMT solutions at various stages according to the different needs of customers. I.C.T is not only a provider of SMT equipment and technology, but also is the customer's escort in the field of SMT and DIP.
Welcome more people to discuss with us about SMT technologies and solutions, please contact us for more information:
Tel: +86 13670124230 (WhatsApp/Skype/WeChat)
Email: info@smt11.com /etasmt@foxmail.com
❙ SMT X-ray Machine Video