Hight Quality Off-line Selective Wave Soldering Machine
Hight Quality Off-line Selective Wave Soldering Machine SS430
Selective wave soldering is a special form of wave soldering invented to meet the development requirements of through-hole components soldering. It is mainly suitable for the soldering of through-hole components in high-end electronic products. For example: military electronic products, automotive electronics, switching power supply products and other industries which require higher soldering reliability.
I.C.T SS330/430 selective wave soldering is a high performance equipment developed and assembled in China.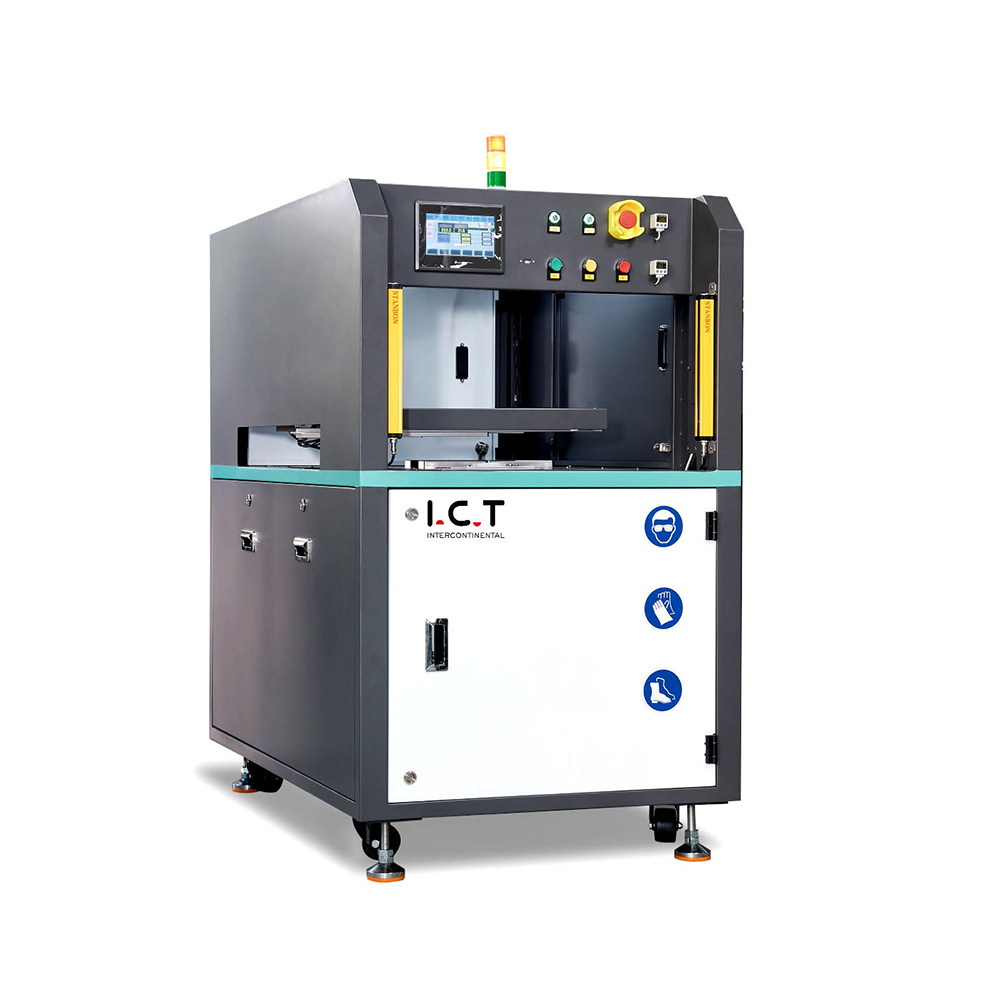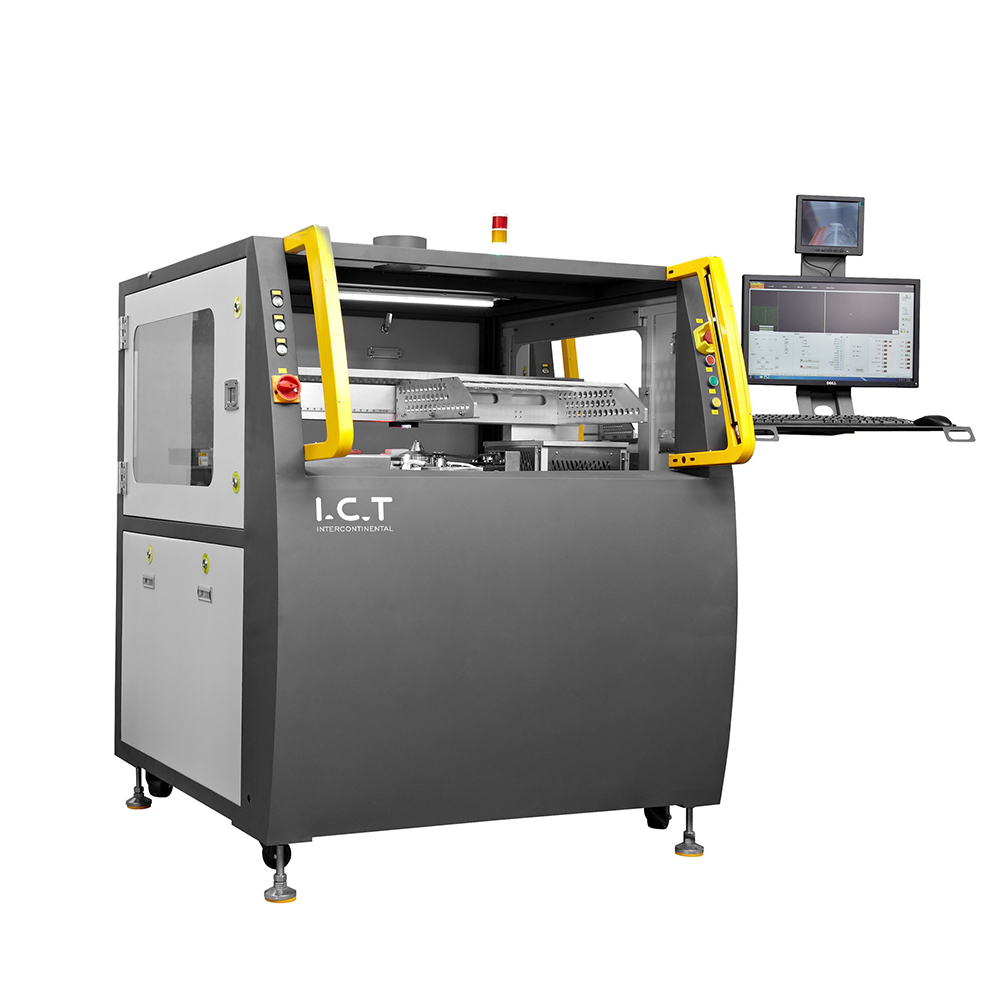 1. The piezoelectric ceramic jet valve originated in Germany is selected, which is suitable for flux with solid content less than 5%,computer control or manually adjust switch, precise control the spray time, spray speed, economy and environmental protection, digital FLUX flow, spray flow, angle, density, width and other parameters can be recorded.
2. User-friendly design: fault detection (such as heaters abnormal alarm, etc.), regular maintenance reminders,economy functions, emergency manual transmission function and tool-free maintenance, reduce equipment failure rates.
3. Core components: using imported components to ensure long-term stability of equipment operation.
4. It can control the solder quantity, soldering time and solder quantity of each solder spot.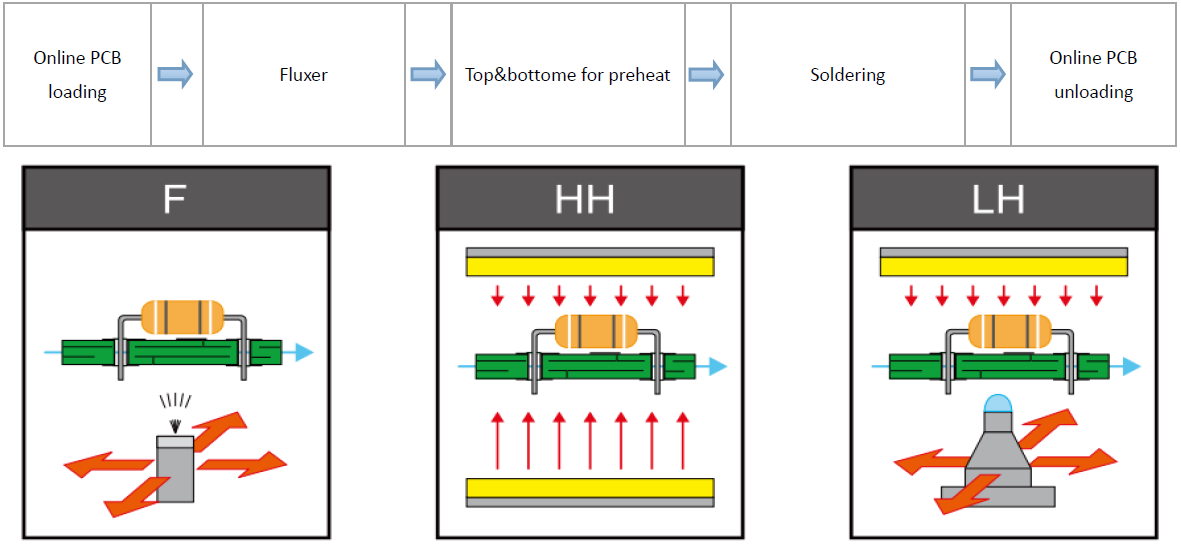 Flux Spraying + Preheating + Soldering

Flux system
1. The piezoelectric ceramic jet valve originated in Germany is selected, which is suitable for flux with solid content less than 5%.
2.Flux is stocked by pressure tank, make sure pressure stable without influenced of amount of flux. The nozzle jam detection function is optional.

Preheat system
Bottom preheating is standard equipped in machine, Position is adjustable.IR heater of Top,Efficient and stable IR heat conduction.Design structure for maximizing preheating area.All round high temperature cotton design to ensure temperature stability.Heat-generating and heat-conducting parts and motors adopt top brands.Maintenance plug-in design. tool-free maintenance mode.
Soldering system
1.XYZ platform is composed of high precision ball screw and high-speed motor.
2.Electromagnetic pump coil adopts German imported brand to ensure the stability and reliability of the peak.
3.Solder temperature, N2 temperature, wave height, wave calibration etc all able to set in software.
4.Solder pot is made of Ti, not leakage. With cast iron heater outside, robust & quick heat up.
Off-line Selective Wave Soldering Machine
Model
I.C.T SS330
I.C.T SS430
Flux Storage Tank
1 L
Max PCB Size
350*300mm
400*300mm
PCB Top Clearance
100mm
50mm
PCB Weight
<5Kg
N2
Purity of N2: 99.998%, 0.3~0.4 MPa,25 L/min,Outer diameter Φ6mm
Dimension
L830*W1350*H1430mm
L1280*W1400*H1650mm
Weight
Approx:380kg
Approx:420kg
❙ I.C.T SMT Machine Exhibition
❙ Wave Soldering Machine Certificate
❙ I.C.T Global Service
Keywords:
Wave Soldering Machine, Dual Rail Wave Soldering Machine, High End Wave Soldering Machine, Nitrogen Wave Soldering Machine, China Wave Soldering Machine, Wave Soldering Machine Manufacturer, dip soldering machine, lead free wave solder machine, THT Wave Soldering Machine.
I.C.T is a manufacturer of SMT machines. It mainly provides customers with SMT production lines including SMT Stencil Printers, Pick and place machines, Reflow Oven, AOI Machine, Wave Soldering Machine and PCB Handling Machine etc.
I.C.T has more than 25 researches on SMT and DIP technology, for the world Customers provide SMT total solutions. There are successful cases of SMT technical team in Asia, Europe, America, Africa, and Australia.
I.C.T provide SMT solutions at various stages according to the different needs of customers. I.C.T is not only a provider of SMT equipment and technology, but also is the customer's escort in the field of SMT and DIP.
Welcome more people to discuss with us about SMT technologies and solutions, please contact us for more information:
Tel: +86 13670124230 (WhatsApp/Skype/WeChat)
Email: info@smt11.com /etasmt@foxmail.com