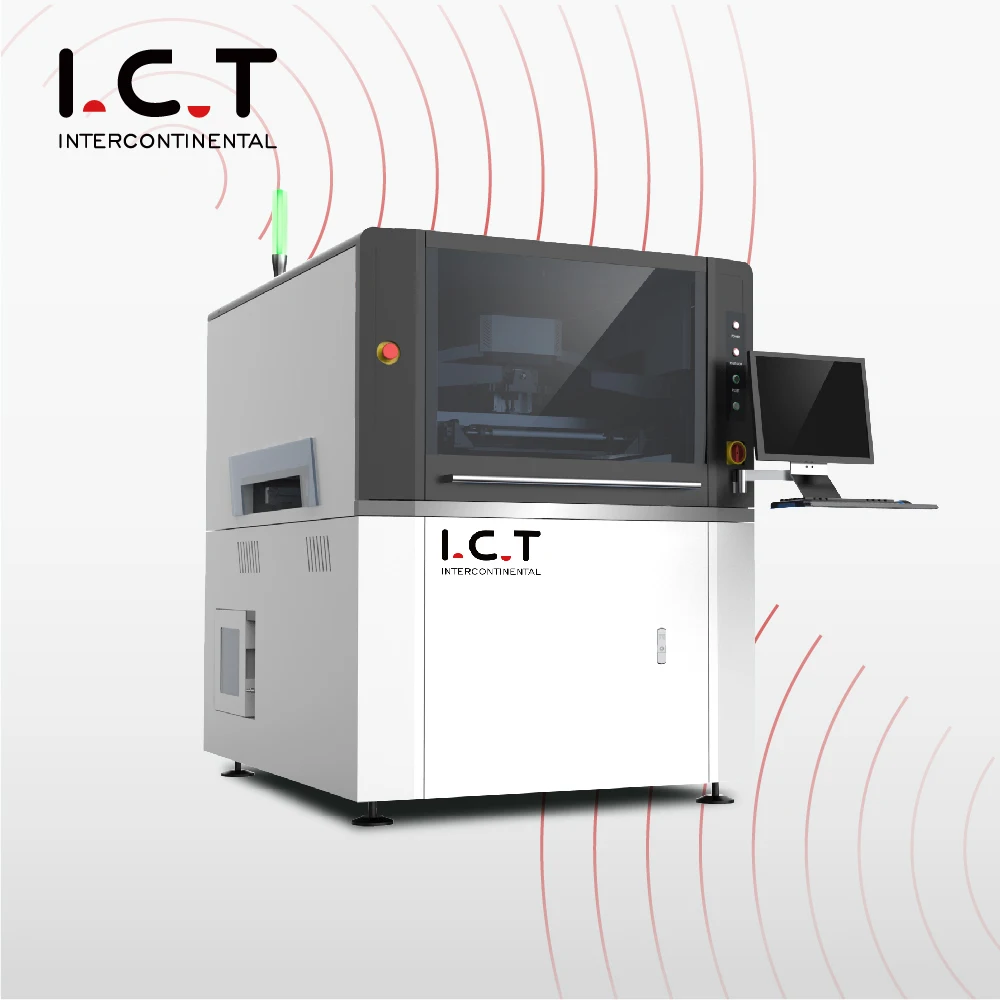 SMT stencil printing machine I.C.T-4034
❙ Introduction of SMT Printer
I.C.T-4034 is a high precision automatic solder paste printer, correspond to industrial 4.0 and MES system.through a higher level of automation, achieve zero defect.
1,High positional accuracy, repeated positioning accuracy ±0.01mm; printing accuracy 0.025mm
2,Support glue printing,Automatic control improves production efficiency, quality control and saves production cost
3,Automatic PCB calibration,Squeegee pressure adjustable,Automatic printing,Automatic stencil cleaning
4,Programmable motor controls separation speed and distance among squeegee, stencil and substrate, to realize multi-method separation. 5,Multi-functional PCB positioning system for convenient and accurate PCB positioning.
6,Programmable PCB lifting platform ensure the PCB to lift to a proper height
7,Adopt company independently developed suspended print head with automatic pressure adjustment system. Support on-line real time pressure feedback and automatic squeegee pressure balancing. Accurate pressure control ensures perfect paste forming effect. 8,Applicable PCB types:LCD TV, STB, LED, family cinema, vehicle electronics.besides general electronics products.
9.SMEMA standard.

❙ Specification of SMT Stencil Printer
Model

I.C.T-4034
I.C.T-5151
I.C.T-6561
I.C.T-1500(LED)
Frame Size(mm)

470*370 ~ 737*737

470*370 ~ 737*737

470*370 ~ 850*850

470*370 ~ 1800*750

PCB Size(mm)

50*50 ~ 400*340

50*50 ~ 510*510

80*50 ~ 650*610

80*50 ~ 1500*350

TransportDirection

Left-Right; Right-Left; Left-Left; Right-Right

Support System

Magnetic Pin/Up-down table adjusted/support block

Clamping System

Side clamping, vacuum nozzle,Automation retractable Z pressure

Printer Head

Two independent motorised printhead

Squeegee Type

Stainless steel(standard),plastic

Cleaning System

Dry, Wet, Vacuum

Inspection

2D Inspection(Standard)

Power Supply

AC:220±10%,50/60HZ,3Kw

Control Method

PC Control

Dimension(mm)

1220*1355*1500

1220*1530*1500

1330*1530*1500

2500*1220*1500

Weight

Approx:1250kg

Approx:1300kg

Approx:1300kg

Approx:1800kg
| | | | |
| --- | --- | --- | --- |
| Model | I.C.T-5134 | I.C.T-6534 | I.C.T-1200(LED) |
| Frame Size(mm) | 470*370 ~ 737*737 | 470*370 ~ 737*737 | 470*370 ~ 850*850 |
| PCB Size(mm) | 50*50 ~ 400*340 | 50*50 ~ 510*510 | 80*50 ~ 650*610 |
| Dimension(mm) | 1220*1355*1500 | 1330*1530*1500 | 2200*1200*1500 |
| Weight | Approx:1250kg | Approx:1300kg | Approx:1500kg |
❙
Customers Factory
▽ I.C.T Russia customer - SMT production line

▽ I.C.T Ecuador customer - LED TV production line
Successful Experience:
I.C.T's Customer In 35 Countries Around the World
1. We Have Been Helping Customers To Build a Lot of New Factories Around the World.
2. Training More Than 500 Experts and Technician for Customers.
3. Became the Most Reliable Chinese Partner for You.
For SMT Factory Setup, We Can Do for You:
1. We Provide Full SMT Solution for You
2. We Provide Core Technology With Our Equipments
3. We Provide The Most Professional Tech Service
4. We Have Wealthy Experience on SMT Factory Setup
5. We Can Solve Any Question About SMT
❙ I.C.T SMT Machine Exhibition
❙ I.C.T SMT Printer Certificate
❙ I.C.T Global Service
❙ Keywords:
SMT Stencil printer, SMT solder paste printer, SMT printing machine, SMT PCB printer, 600mm Solder paste printer, 1200mm solder paste printer, Solder paste printer, semi-auto solder paste printer, smt automatic stencil printer, smt screen printing machine
I.C.T is a manufacturer of SMT machines. It mainly provides customers with SMT production lines including SMT Stencil Printers, Pick and place machines, Reflow Oven, AOI Machine, Wave Soldering Machine and PCB Handling Machine etc.
I.C.T has more than 25 researches on SMT and DIP technology, for the world Customers provide SMT total solutions. There are successful cases of SMT technical team in Asia, Europe, America, Africa, and Australia.
I.C.T provide SMT solutions at various stages according to the different needs of customers. I.C.T is not only a provider of SMT equipment and technology, but also is the customer's escort in the field of SMT and DIP.
Welcome more people to discuss with us about SMT technologies and solutions, please contact us for more information:
Tel: +86 13670124230 (WhatsApp/Skype/WeChat)
Email: info@smt11.com /etasmt@foxmail.com
❙ SMT Printer Line Video