SMT PCB Conveyor
❙ Introduce of SMT Conveyor
This unit is used as an inspection station for operators between SMT machine
PCB Handling Machine, SMT Conveyor, PCB Conveyor,SMT Inspection Conveyor, SMT Turn Conveyor, SMT Cooling Conveyor, SMT Reject Conveyor, SMT Telescopic Conveyor, SMT Shuttle Conveyor, SMT Link Conveyor, SMT Cooling Conveyor, NG/OK Buffer Conveyor, Automatic Magazine Loader, PCB Loader, Nutek Conveyor, PCB Magazine Loader, PCB Unloader, SMT Loader, SMT Magazine Loader, SMT Automatic Folding Loader, Automatic SMT Loader, Automatic SMT Unloader, Dual-Rails SMT Unloader, PCB Ng Ok Unloader, SMT Unloader, SMT Vacuum Loader, PCB Automatic Magazine Loader, PCB Vacuum Loader, SMT Telescopic Conveyor, SMTShuttle Conveyor, PCB Stacker Unloader, PCB Stacker Loader, 90 Degree SMT Loader
1.Modular design, optional assembly as per client's requirement.
2.Rugged steel design, improves equipment stability .
3.Smooth stainless steel screw to adjust the width of the rail.
4.Variable speed control.
5.Circuit board testing mode.
6.Using a dedicated aluminum slot for transfer orbit to prevent PCB stuck.
7.Heavier bottom design, not easily shift.
8.Machine length can be customized.
9.Compatible with SMEMA interface.
*: Option: Dual rail
❙ Specifications of SMT Conveyor
Body Material

Welding of metal materials

China

Sensor

Omron

Japan

Rail

Aluminum (mold making)

China

Belt

4mm antistatic belt

China

Guide Screw

High precision ball screw

Taiwan

Model

SC-500

SC-600

SC-1000

SC-1200

SC-1500

SC-2000

Rail Length

500 mm
600 mm
1000 mm
1200 mm
1500 mm
2000 mm
Dimension(mm)

500*700*950

600*700*950

1000*700*950

1200*700*950

1500*700*950

2000*700*950

PCB Width

50 to 350 mm

Power Supply

1 PH AC 220V 50/60Hz (Option:110V to 380V)

Weight
50 Kg

50 Kg

55 Kg

85 Kg

125 Kg
150 Kg

❙ ETA PCB Handling Machine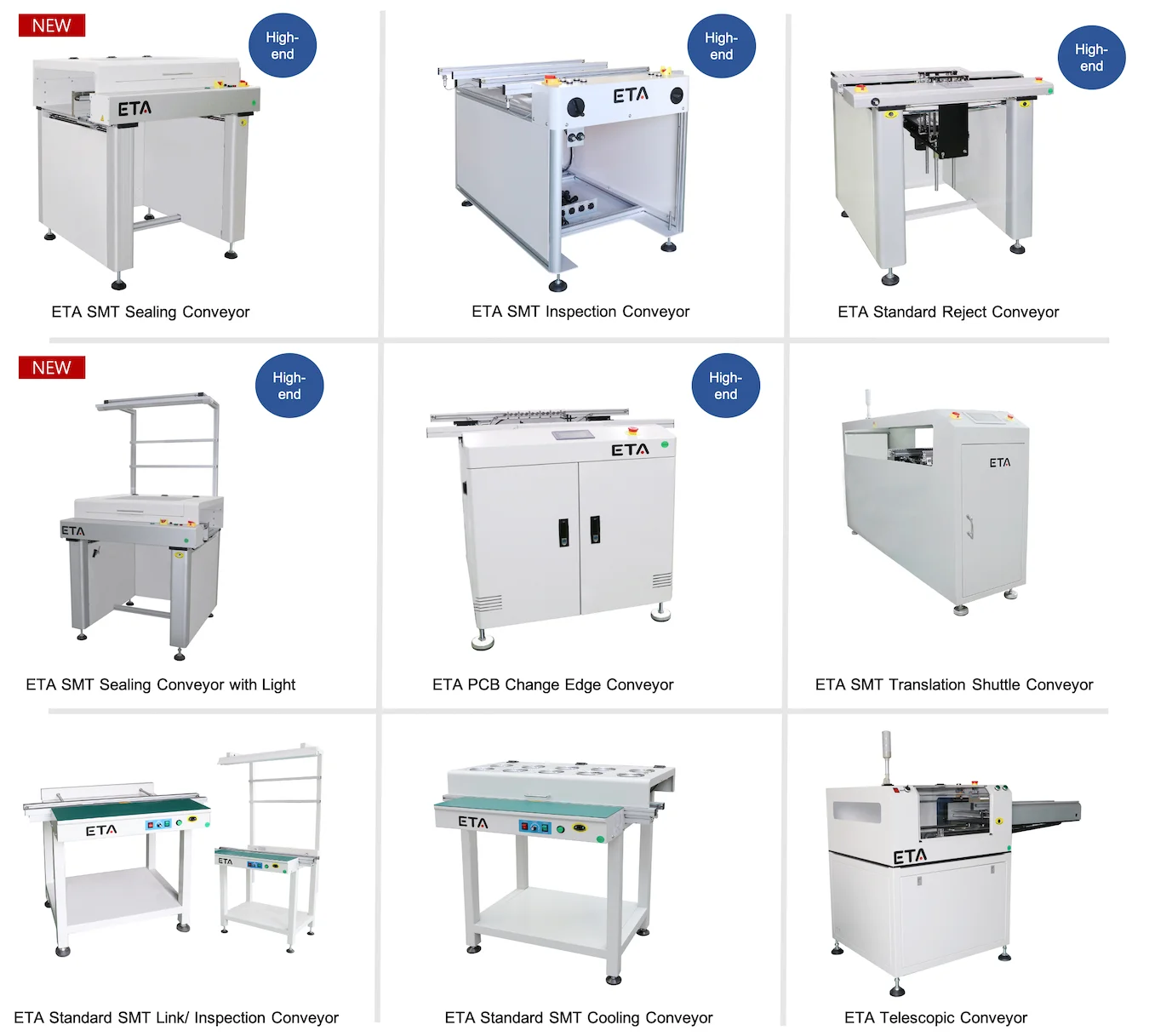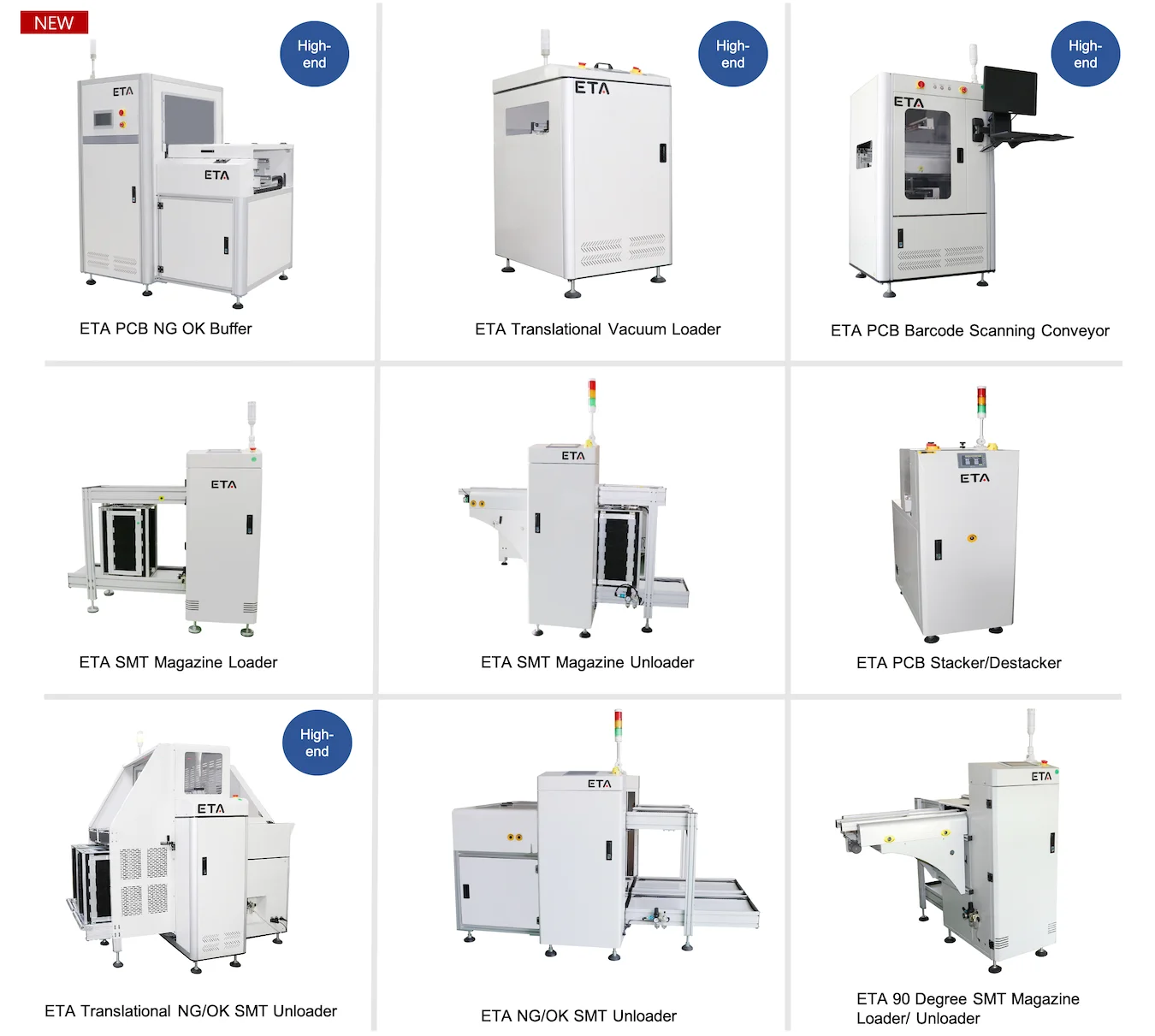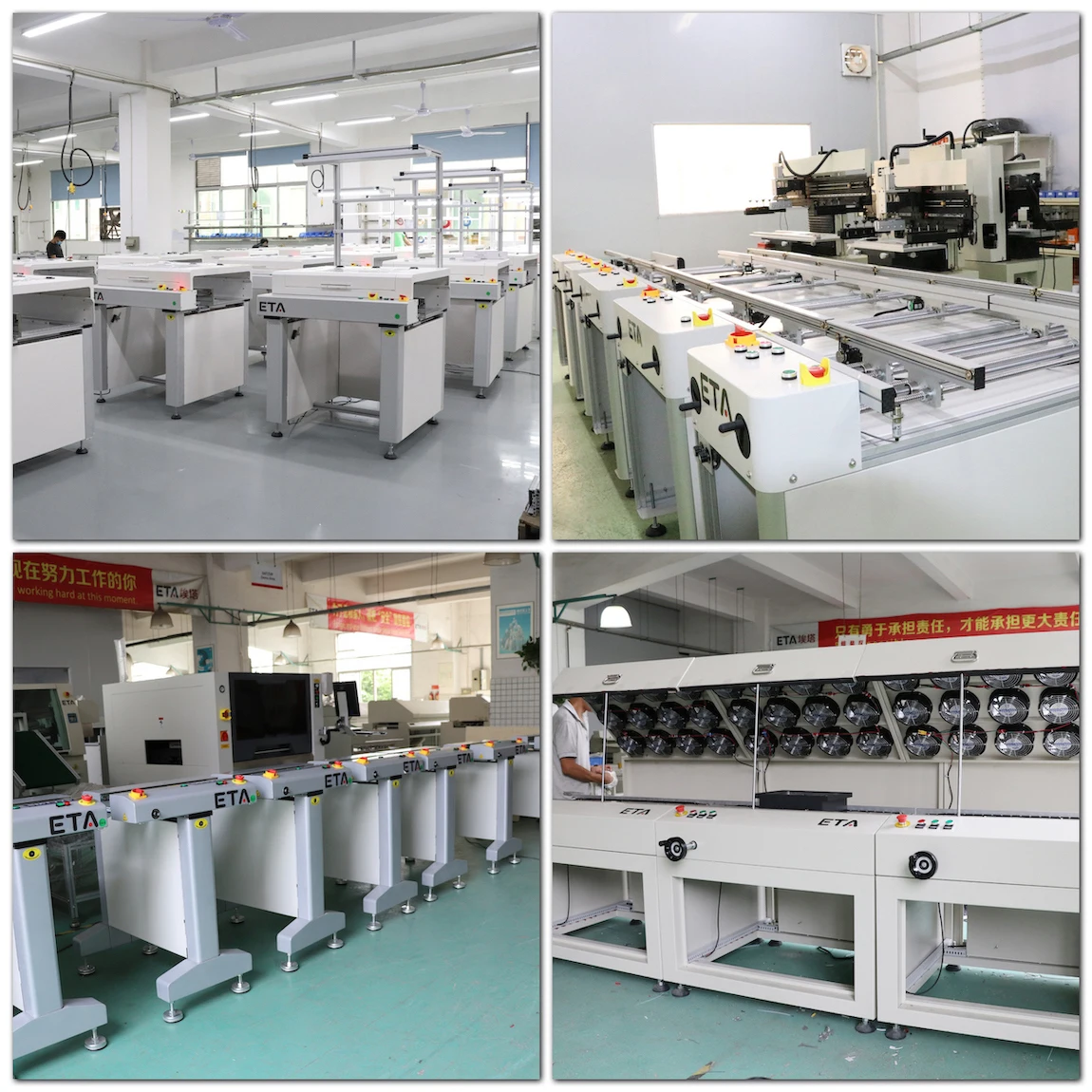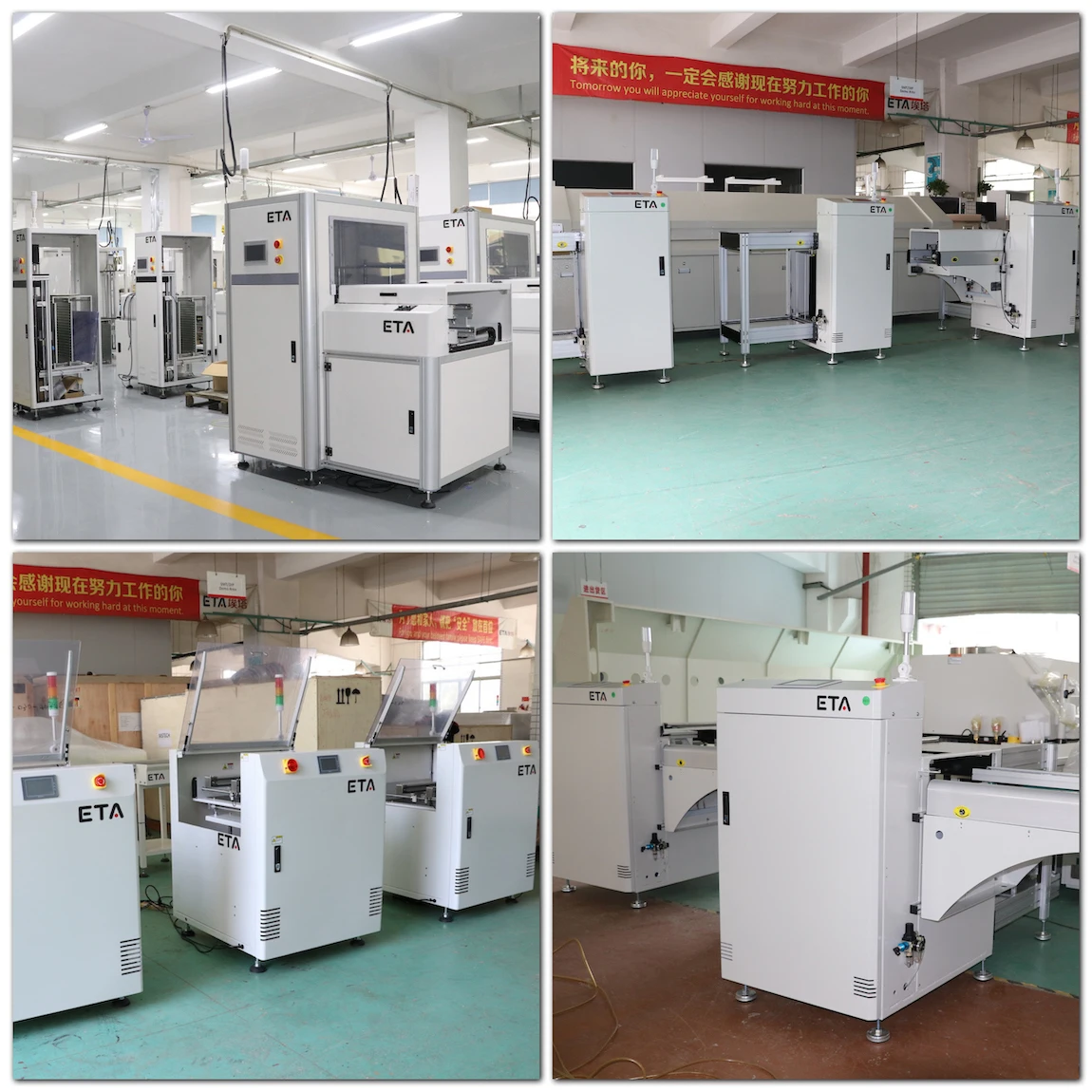 ❙ ETA Customer Factory
▽ ETA Poland customer

▽ ETA Russia customer
▽ ETA Vietnam customer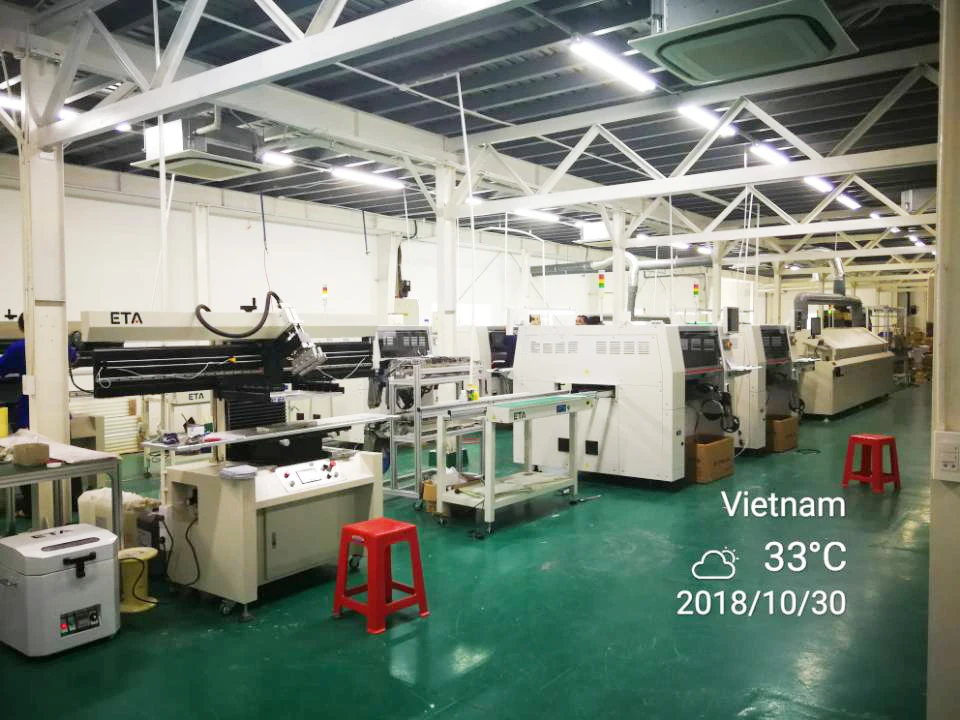 ❙ Company Profile
ETA is the SMT machine supplier with professional 25-year-experienced sales and after sales team, providing SMT solutions including pick and place machine, reflow oven, SMT stencil printer, SMT line and wave soldering machine.
We also provide the best SMT technical services and accessories support for JUKI, Hanwha/ Samsung, Yamaha, Panasonic pick and place machine.
Successful Experience:
Eta's Customer In 35 Countries Around the World
1. We Have Been Helping Customers To Build a Lot of New Factories Around the World.
2. Training More Than 500 Experts and Technician for Customers.
3. Became the Most Reliable Chinese Partner for You.
For SMT Factory Setup, We Can Do for You:
1. We Provide Full SMT Solution for You
2. We Provide Core Technology With Our Equipments
3. We Provide The Most Professional Tech Service
4. We Have Wealthy Experience on SMT Factory Setup
5. We Can Solve Any Question About SMT
❙ ETA SMT Machine Exhibition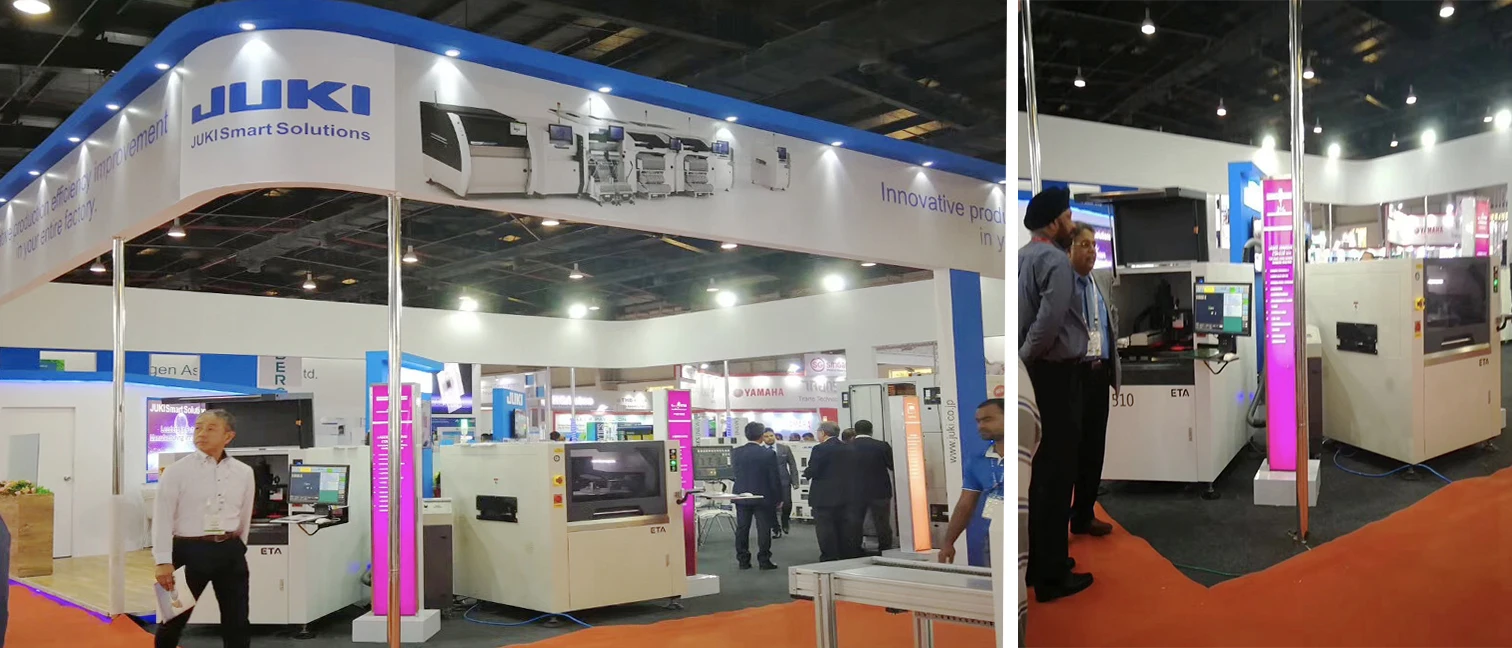 ❙ ETA SMT Conveyor Certificate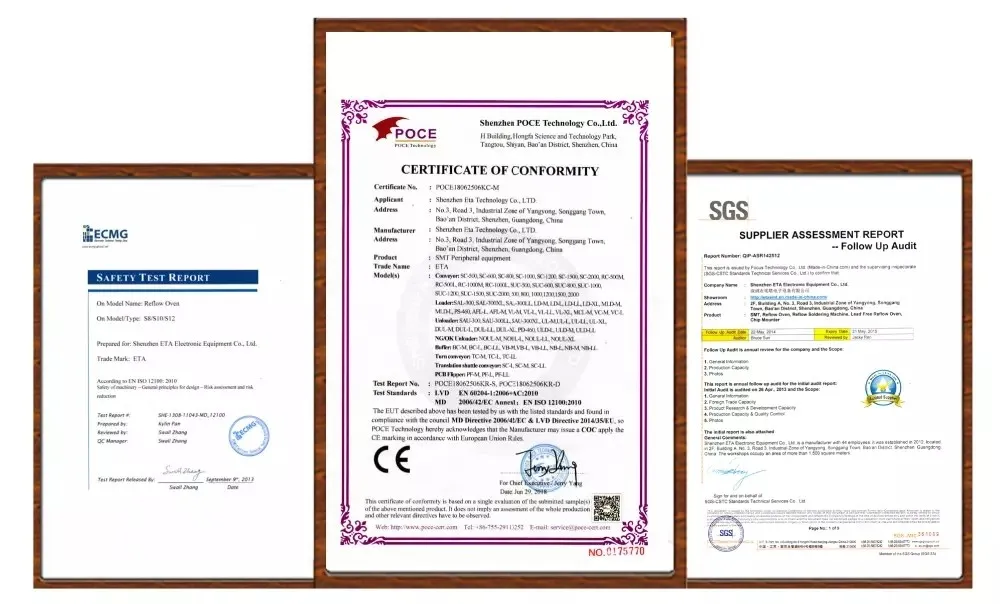 ❙ ETA Global Service
❙ Customers' Feedback
❙ FAQ
Q: What we can do for you?
A: Total SMT Machines and Solution, professional Technical Support and Service.
Q:Are you a trade company or a manufacturer?
A: OEM & ODM service are available.
Q: What is your delivery date?
A: The delivery date is about 35 days after receipt of payment.
Q: What is your payment terms?
A: 30% deposit in advance and 70% balance before shipment.
Q: What your main customers?
A: Huawei,Foxconn,Vtech,Sumida,Kemet,Vishay,Bosch,Canon.
Q: Why choose us?
A: Leading SMT Supplier in China; Trade assurance to USD 560,000+; Professional after-sales service team.
❙ Packaging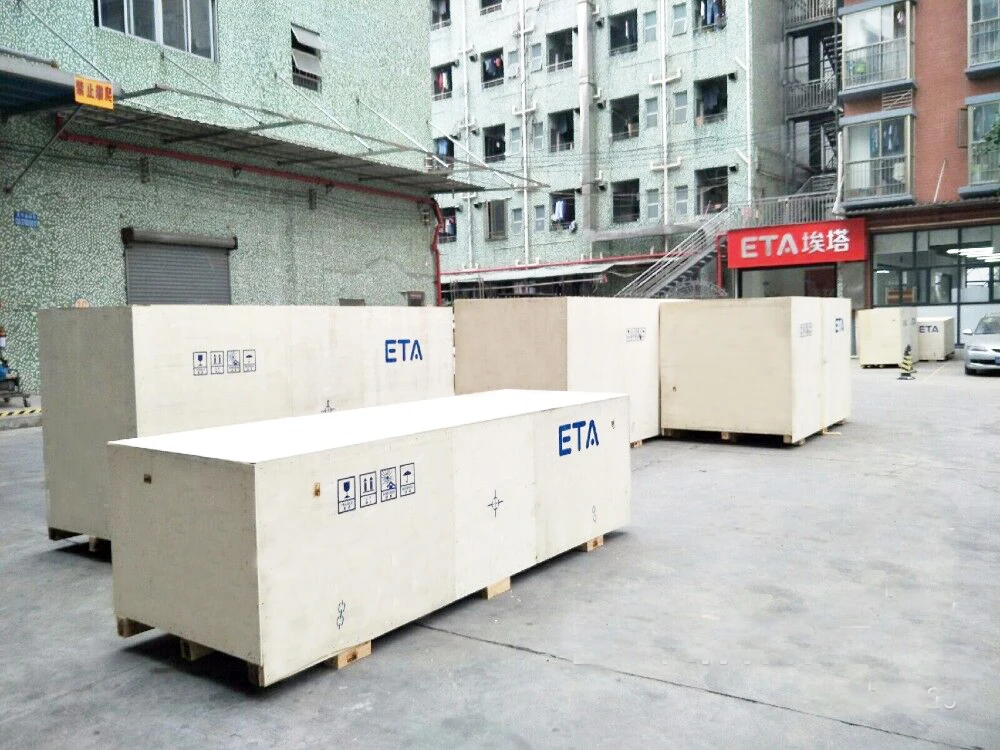 If you could not find any similar items you want, you may send some photos to us. because our catalog and website haven't included all of our products.
Keywords:
SMT Peripheral Equipment,Board Handling Machine, PCB Handling Machine, PCB Loader, PCB Unloader, SMT PCB Conveyor, DIP Insert Line, SMT NG/OK Unloader, SMT Shuttle Conveyor, Linking Conveyor, solder infeed conveyor, solder outfeed conveyor, Inspection Conveyor, Reject Conveyor.
ETA is a manufacturer of SMT machines. It mainly provides customers with SMT production lines including SMT Stencil Printers, Pick and place machines, Reflow Oven, AOI Machine, Wave Soldering Machine and PCB Handling Machine etc.
ETA has more than 25 researches on SMT and DIP technology, for the world Customers provide SMT total solutions. There are successful cases of SMT technical team in Asia, Europe, America, Africa, and Australia.
ETA provide SMT solutions at various stages according to the different needs of customers. ETA is not only a provider of SMT equipment and technology, but also is the customer's escort in the field of SMT and DIP.
Welcome more people to discuss with us about SMT technologies and solutions, please contact us for more information: WhatsApp/ Skype / WeChat: +86-13670124230,Email: etasmt@foxmail.com
❙ SMT Conveyor Video