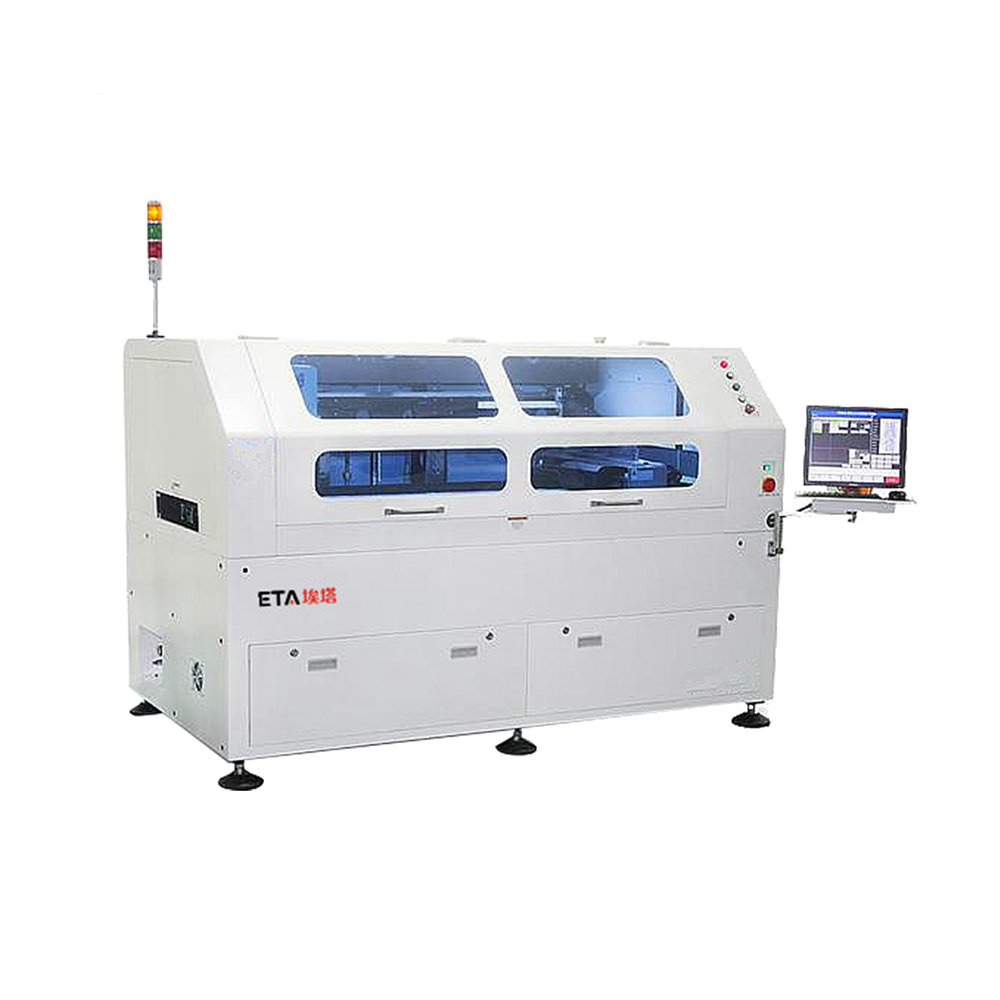 High precision solder paste SMT Automatic stencil printer
High precision solder paste SMT Automatic stencil printer

SMT Printer:pcb machine,pcb printing machine,pcb printer,smt stencil printer,smt stencil machine,smt solder paste printing machine,solder paste printer,pcb stencil printer,smt equipment,smt welding machine

Introduction of Smt Stencil Machine:
ETA Smt Stencil Machine can cater for PCB size up to 410mm x 310mm come with many high performance and useful features such as APC (Automatic Pressure Check); Swappable Monitor Position; 2D inspection Function as standard.

High Precision SMD Full Auto Stencil Printer Machine Line for SMT1200

■ Suspended print head with programmable pressure automatic adjustment system
a) Programmable pressure automatic adjustment system support visible pressure values of front and rear squeegees and ensures accurate pressure control.
b) Pressures of front and rear squeegees are separately adjusted, to compensate pressure imbalance caused by fatigue deformation of squeegee to prevent from different printing quality in front and rear.
■ Standard stainless steel squeegee, unique design to improve the lifespan of squeegee blade.
■ ETA Vision alignment system
■ Table X/Y/θ automatic calibration system.
■ PCB clamping and support system. .
a) Magnetic pins;
b) PCB flexible side clamping system to ensure no bending and deformation during PCB clamping
c) Strong vacuum suction (optional)
d) Elastic Z-direction pressing tablets (optional)
e) Flexible automatic pins(optional)
■ NC slide way adjustment for conveyor width and speed.
■ Dry-type, wet-type and vacuum-type with arbitrary combination for stencil cleaning system.
■ System Requirements: IPC (Industrial Personal Computer) with Windows XP System
■ Built-in software diagnosis system.
■ Support 2D, SPC software function.
■ Standard SMEMA link port.

ETA is the leading manufacturer for smt machines and solution with 23 years' experience in China. And we are aslo the only Chinese SMT supplier for Huawei factory in China.We have professional after-sales service team provides overseas service.

Successful Experience:
Eta's customer in 35 countries around the world
※ We have been helping customers to build a lot of new factories around the world.
※ Training more than 500 experts and technician for customers.
※ Became the most reliable Chinese partner for you.

ETA Engineer installed in Iran
ETA Engineer installed in Iran
ETA Engineer installed in Argentina
1.Are you a trade company or a manufacturer?
=》OEM & ODM service are available.

2.What is your delivery date?
=》The delivery date is about 35 days after receipt of payment.

3.What is your payment terms?
=》30% deposit in advance and 70% balance before shipment.

4.What your main customers?
=》Huawei,Foxconn,Vtech,Sumida,Kemet,Vishay,Bosch,Canon.

5. Why choose us?
=》 Leading SMT Supplier in China; Trade assurance to USD 560,000+; Professional after-sales service team.

ETA Full Auto SMT Stencil Printer
Semi-automatic & Full-automatic

Pick and Place Machine
SAMSUNG, JUKI, YAMAHA, ETA

ETA Reflow oven
6-10 Heating Zones

ETA On-line / Off-line AOI
Packing Method:
※ Standard wooden package
Shipping Way:
※ By air, for sample and small package,international express like DHL, UPS, EMS...
※ By sea, for large package and quantity;
※ Other ways as customer requested.
Delivery Time:
※ 35 Days


■ Pre-Consultation: provides professional SMT solutions for the full line.
■ Factory Warranty: One-year warranty factory service.
■ Installation: On-site installation and commissioning, to ensure smooth production.
■ Technical Training: provides professional training from Level 1 to Level 3.
■ Technical Support: provides 7 * 24 technical support.
■ Software Upgrade: offers lifetime free software upgrades for all products



High Precision SMD Full Auto Stencil Printer Machine Line for SMT1200

Page search keywords:
High precision solder paste SMT Automatic stencil printer, View Automatic stencil printer, ETA Product Details from Shenzhen ETA Technology Co., Ltd.
,By ETA SMT Pick and Place Machine Manufacturing,WaweisIt mainly produces:
Reflow Oven
,
Pick and Place Machine
,
SMT Machine
.