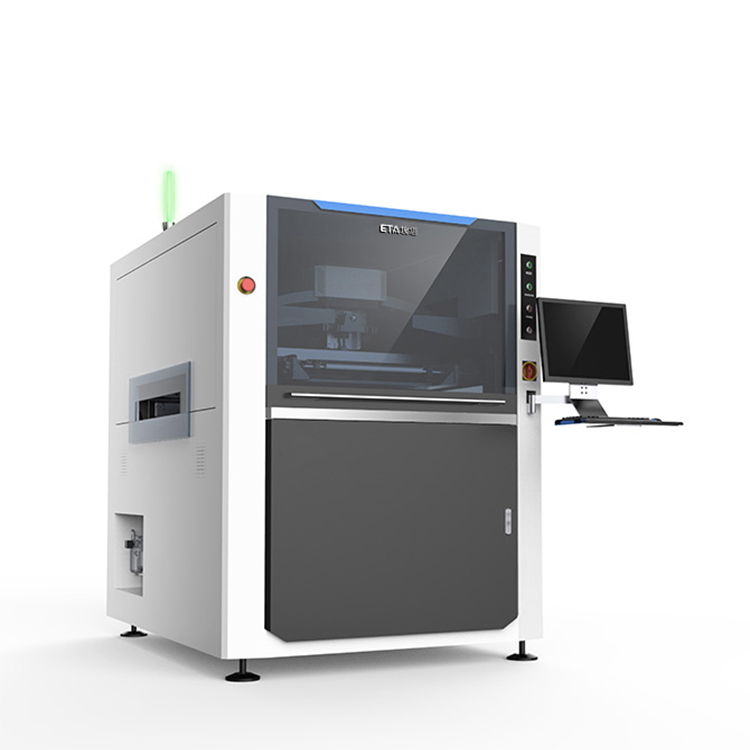 ETA Fully Automatic LED Printer ETA-1500
Arch bridge suspension type direct connection squeegee structure.
The squeegee is independently controlled by two high-precision stepping motors to ensure accurate and stable pressure.
The double side slide positioning rails ensure the accuracy and stability of the squeegee before and after operation.

The unique belt conveyor system can effectively prevent stuck PCB.
The motor controls the speed and the stop position is precise. PCB entry and exit directions are freely available.
The side clamps and vacuum are used to effectively clamp the PCB to ensure the smooth contact between PCB and stencil.
Uniform ring and high brightness coaxial light source. Advanced up and down matching system.
Full range light source adjust can identify various types of Mark.
Suitable for tin plating, copper plating, tin spraying, FPC and other PCB to ensure high accuracy.
The three axis linkage adjustment system has superb dynamic characteristics and quickly realizes the
adjustment of PCB. Drive by direct connection motor, fast and ensure high precision.
According to different process requirements, dispensing glue, paste flux, solder paste,
dispensing line and other functions. dispensing head has automatic heating function to improve glue flow.
Windows 7,Friendly MMI interface, teaching and navigation function. Operation log,
fault record analysis and other diagnostic functions. New program is controlled within 5-10 minutes.
Dry, wet and vacuum cleaning, can also be manual cleaning. CCD and cleaning part are designed separately.
Unique spray cleaning system, from top to bottom, spray evenly. Software control alcohol and paper consumption,
save consumable. Special exhaust motor, vacuum strong and effective.