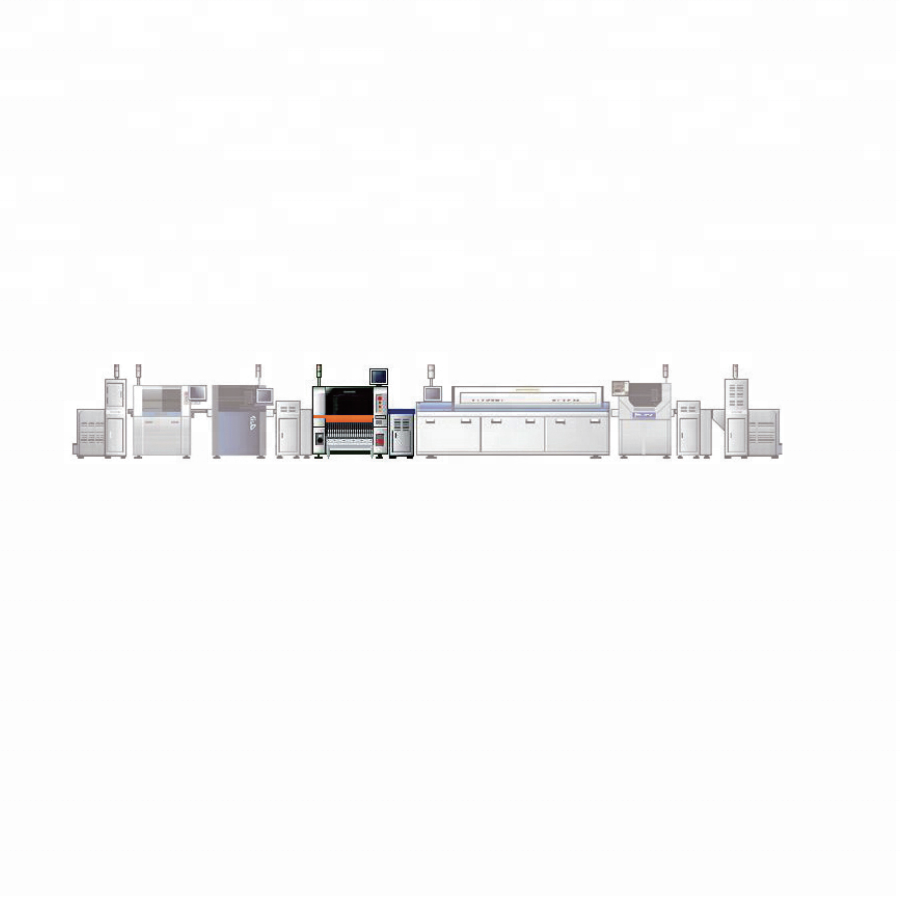 SMT Factory Setup for Making PCB Telecommunication Equipment Cards
ETA NEW Led Spot Production Line
SMT line(High flexibility):

Loader+printer+conveyor+pick and place+conveyor+reflow oven+ working table (size:12.2*2*1.65m)

1. workers:1-2(Operator1,AOI 1)

2. Actual Capacity:20000-22000pcs/hour(28000CPH FOR IPC9850)

3. Other information to check the catalogue

THE EXPANSION OF THE SOLUTION:
If it is necessary to increase production quantity, only need to increase the smt mounter, the other device does not need to increase, cost savings.
ETA SMT Loader/Unloader
■ Special aluminum alloy body, better to know the working status of magazines.
■ Solid cast lift design improving the stability.
■ Panasonic PLC control, multi-function electrical circuits and program design to ensure smooth working line.
■ Humane programming, 4 PITCH chooses, can set the step of receiving/sending PCBs.
■ Standard SMEMA interface, can be connected with other automation equipments.

ETA SMT Stencil Printer
■ Using linear guide-ways,matching motor drive speed , ensure the printing stability and precision.
■ Blade pressure and printing speed is adjustable,precision pressure gauge, speed controller display.
■ Suspension blade system makes printing more evenly.
■ Modular universal bench, thimble random placement , easy conversion.
■ With alignment device for PCB board and frame.
■ Work with both single-sided and double-sided PCB boards.

ETA SMT Conveyor
■ modular design, optional assembly as per client's requirement.
■ Rugged steel design, improves equipment stability .
■ Smooth stainless steel screw to adjust the width of the rail.
■ variable speed control.
■ Circuit board testing mode.
■ using a dedicated aluminum slot for transfer orbit to prevent PCB stuck.
■ heavier bottom design, not easily shift.
■ machine length can be customized.

ETA LED Pick and Place Machine
■ World-leading productivity with the ultra-high-speed rotary head.
■ High precision, high quality mounting for miniature chips.
■ Long term reliability and easy maintenance.
■ One platform, wide flexibility.

ETA SMT Reflow Oven
■ Control System: PC + Siemens PLC control system,accurate temperature control and more stable,ensures temperature stability rate to be more than 99.99%.
■ Hot air system: first-class heating module, the best temperature zone interval design makes optimum temperature uniformity and repeat.The effective utilization and thermal compensation efficiency,it needs less than 20 minutes from temperature control accuracy ± 1 ℃ ambient temperature to a temperature stabilization .

ETA is the leading manufacturer for smt machines and solution with 23 years' experience in China. And we are aslo the only Chinese SMT supplier for Huawei factory in China.We have professional after-sales service team provides overseas service.

Successful Experience:
Eta's customer in 35 countries around the world
※ We have been helping customers to build a lot of new factories around the world.
※ Training more than 500 experts and technician for customers.
※ Became the most reliable Chinese partner for you.

ETA Engineer installed in Iran
ETA Engineer installed in Iran
ETA Engineer installed in Argentina
1.Are you a trade company or a manufacturer?
=》OEM & ODM service are available.

2.What is your delivery date?
=》The delivery date is about 35 days after receipt of payment.

3.What is your payment terms?
=》30% deposit in advance and 70% balance before shipment.

4.What your main customers?
=》Huawei,Foxconn,Vtech,Sumida,Kemet,Vishay,Bosch,Canon.

5. Why choose us?
=》 Leading SMT Supplier in China; Trade assurance to USD 560,000+; Professional after-sales service team.

Packing Method:
※ Standard wooden package
Shipping Way:
※ By air, for sample and small package,international express like DHL, UPS, EMS...
※ By sea, for large package and quantity;
※ Other ways as customer requested.
Delivery Time:
※ 35 Days


■ Pre-Consultation: provides professional SMT solutions for the full line.
■ Factory Warranty: One-year warranty factory service.
■ Installation: On-site installation and commissioning, to ensure smooth production.
■ Technical Training: provides professional training from Level 1 to Level 3.
■ Technical Support: provides 7 * 24 technical support.
■ Software Upgrade: offers lifetime free software upgrades for all products

Page search keywords:
SMT Factory Setup for Making PCB Telecommunication Equipment Cards, View SMT Factory Setup, ETA Product Details from Shenzhen ETA Technology Co., Ltd.
,By ETA SMT Pick and Place Machine Manufacturing,WaweisIt mainly produces:
Reflow Oven
,
Pick and Place Machine
,
SMT Machine
.